Municipal Government Records (including School Districts)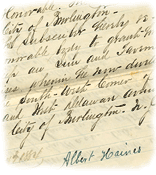 Burlington City
tavern license, 1884.
The State Archives' holdings of municipal records are sporadic, and include records of several defunct municipalities. Contact the present-day municipal clerk's office or local health department for additional and/or more recent records.
Local Place Names - searchable version of the Department of Transportation's directory of modern place names in New Jersey. Users should note that many historical place names are not included.