Home
>
News
>
Press Releases
>
2010
>
SECRETARY OF AGRICULTURE VISITS MERCER COUNTY SPECIAL SERVICES HIGH SCHOOL FARM TO SCHOOL PROGRAM
SECRETARY OF AGRICULTURE VISITS MERCER COUNTY SPECIAL SERVICES HIGH SCHOOL FARM TO SCHOOL PROGRAM
For Immediate Release: September 30, 2010
Contact: Lynne Richmond 
(609) 633-2954

(HAMILTON) – New Jersey Secretary of Agriculture Douglas H. Fisher today enjoyed pasta salad with Jersey Fresh broccoli, tomatoes, cucumbers and zucchini as well as pumpkin bars made with home-grown pumpkins at Mercer County Special Services High School in Hamilton during their Farm to School celebration.

The Department of Agriculture's Farm to School program helps connect schools with local farmers to increase school meals' nutritional value, combat obesity and support the state's agriculture industry.

"Programs like Mercer High School's benefit students greatly by incorporating more fresh produce into their diets and teaching them about where their food comes from and why it's important to have agriculture in New Jersey," said Secretary Fisher.  "We encourage more schools to get involved in the Farm to School program."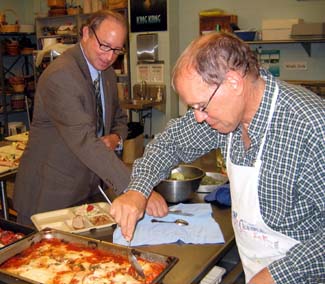 Every day this week, Mercer High School featured Jersey Fresh in their menu items, all prepared by the students.  They made and erected banners promoting Jersey Fresh and the whole school will participate in a tasting on Friday of the dishes made with local produce. 




Secretary Fisher about to try zucchini parmesan made with Jersey Fresh zucchini, being served by Greg Pontier.

Gregory Pontier, a 30-year food service professional and ex-chef who has been with Mercer High School for 11 years, spearheaded the Farm to School activities.  He was able to get 200 pounds of fresh fruits and vegetables donated by local farmers and staff members for the program.

"During our Farm to School festivities, the students realized, perhaps for the first time, why we are called the Garden State," said Pontier, who coordinates the student-run restaurant, the Hard Hat Café, where the school's emotionally or physically handicapped students can access healthy fare.  "The variety of products that came from nearby farms proved that all these products are real.  They've found out that fruits and vegetables come from gardens and farms, as opposed to cans and the freezer, and they've found out that something they've never tried before can be really, really good."

Mercer High School serves autistic, multiply disabled and emotionally disabled students ages 12 to 21, to provide them with a comprehensive education that prepares them for the future and the working world.  The Hard Hat Café is a learning opportunity for students who gain food preparation skills, as well as for student customers who are able to pay for their own meals and be served like they would at outside restaurants.

Legislation is pending to declare the last week in September of each year as Farm to School Week.  The event would celebrate the abundance of Jersey Fresh farm products available in the fall through planning school meal menus using locally grown products, highlighting those items on the schools' weekly menu, and planning health and nutrition-oriented activities for students and staff.

For more information about the Department of Agriculture's Farm to School program, visit www.nj.gov/agriculture/divisions/fn/childadult/farm_to_school.html.