CHRISTIE ADMINISTRATION KICKS OFF JERSEY FRESH FARM TO SCHOOL WEEK IN SALEM CITY
John Fenwick Academy Begins Fresh Fruit and Vegetable Program

For Immediate Release: September 25, 2013
Contact: Lynne Richmond
(609) 633-2954
E-mail: lynne.richmond@ag.state.nj.us 

(SALEM) – New Jersey Secretary of Agriculture Douglas H. Fisher kicked off 2013 Jersey Fresh Farm to School Week on September 24 with a visit to John Fenwick Academy in Salem City.  The school began its 2013-2014 Fresh Fruit and Vegetable Program by providing local produce to students for sampling.

The Department of Agriculture's third annual Jersey Fresh Farm to School Week, taking place September 23 to 27, highlights efforts to connect schools with New Jersey farmers to purchase local produce for school meals.  It also seeks to teach children where their food comes from by growing it themselves in school gardens. 

"Farm to School Week is all about encouraging schools to serve healthy, local produce to their students," said Secretary Fisher.  "The Fresh Fruit and Vegetable Program fits right in this week since it is focused on getting kids to eat more fruits and vegetables."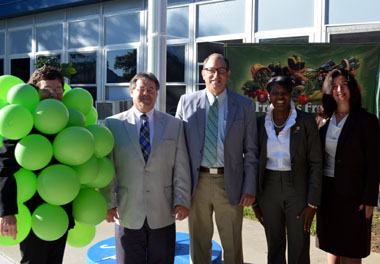 Debra Gralley of Metz Culinary Management, James Harmon of USDA Food and Nutrition Service, Secretary Fisher, Principal Syeda Woods and Rose Tricario NJDA Dir. of the Division of Food and Nutrition

John Fenwick School has participated in the Department's Fresh Fruit and Vegetable Program (FFVP) for three years.  Debra Gralley, General Manager for Metz Culinary Management said they serve the students the fresh produce twice a week.  In the past, Fenwick students have sampled peaches, apples, pumpkins, plums and pears.

"It's important that our kids know as as the parents that we are serious about nutritious eating," said Principal Syeda Woods.

Fenwick school is one of the 144 New Jersey schools will participate in the FFVP for the 2013-2014 school year.  The United States Department of Agriculture allocated $3,934,586 for New Jersey for the program, which provides fresh produce to students during the school day, along with nutrition education.  The goal of the program is to expose children to healthy foods, increase their fruit and vegetable consumption and set them on the road to improved lifelong dietary habits.

For more information about the Farm to School Program, visit www.nj.gov/agriculture/divisions/fn/childadult/farm_to_school.html.

To learn more about the Fresh Fruit and Vegetable Program, go to www.nj.gov/agriculture/divisions/fn/childadult/fruitandvegetable.html.