CHRISTIE ADMINISTRATION CELEBRATES JERSEY FRESH FARM TO SCHOOL WEEK IN MIDDLESEX COUNTY
Ceres Elementary School Lauded for Commitment to Jersey Fresh
For Immediate Release: September 23, 2014
Contact: Lynne Richmond
(609) 633-2954
lynne.richmond@ag.state.nj.us 

(PERTH AMBOY) – New Jersey Secretary of Agriculture Douglas H. Fisher today celebrated the fourth annual Jersey Fresh Farm to School Week with a visit to Anthony V. Ceres Elementary School in Perth Amboy, where Jersey Fresh fruits and vegetables are highlighted in their Fresh Fruit and Vegetable Program and the students grow a school garden.

The Department of Agriculture's Jersey Fresh Farm to School Week, taking place September 22 to 26, highlights efforts to connect schools with New Jersey farmers to purchase local produce for school meals.  It also seeks to teach children where their food comes from by growing it themselves in school gardens. 

"Farm to School Week is a great time for schools to celebrate New Jersey's abundance of fresh produce grown so close to where we live and to teach children the health benefits of eating fruits and vegetables," said Secretary Fisher.  "We applaud the schools that have connected with our farmers and regularly serve local produce to their students."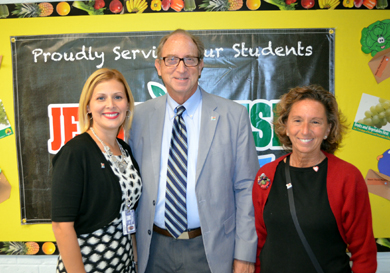 Ceres School Principal Michelle Velez, Secretary Fisher and school health teacher Linda Kovalsky

While at Ceres School, Secretary Fisher visited third and fourth grade classes where the children sampled green grapes, mini sweet yellow, red and orange peppers, broccoli and Italian/prune plums as part of the Fresh Fruit and Vegetable Program, a federally-assisted program administered by the New Jersey Department of Agriculture to provide healthier food choices; expand the variety of fruits and vegetables children experience; and increase children's fruit and vegetable consumption.

Ceres School Principal Michelle Velez-Jonte said they are very thankful for being selected to participate in the Department's Fresh Fruit and Vegetable Program for a second year.

"This grant has afforded our students the opportunity to develop healthy snack habits by tasting and learning about a variety of vegetables and fruits," said Velez-Jonte.  "Our students' interest in eating healthy fruits and vegetables has extended to the home when they tell their parents about something new they tried at school. It has even motivated some of our students to research and learn the origins of some of the new exotic fruits and vegetables they tasted last year, such as the "Dragon Fruit."

Secretary Fisher also visited the school's "Garden of Healthy Choices," planted with seeds from the fruits and vegetables used in last school year's Fresh Fruit and Vegetable Program.  The garden is used as an instructional tool to teach students not only how plants grow, but also to learn about local produce.  As the crops were harvested, they were picked and shown to the students as part of their health lesson. 

This school year, the school's after-school program will include a group of students who will germinate seeds, again from the Fruit and Vegetable Program offerings.  Each student will be responsible for keeping a log of their plant's growth, research and write about their fruit or vegetable, care for it and plant it in the garden in the spring.  They also will help keep the garden watered and weeded.

There has been much focus on Farm to School recently.  Lt. Governor Kim Guadagno last month signed a package of bills that support New Jersey's Farm to School program by increasing student access to healthy, locally grown foods.

For the first time, the Department of Agriculture will provide additional funds this school year to schools for connecting their Fresh Fruit and Vegetable Program with the Farm to School Program.  The schools must provide Jersey Fresh produce a minimum of two days each month from September to November and from April to June and must verify where the produce was grown.  Eighty percent of the 158 schools are participating.  The program is available schools with a high percentage of students eligible to receive free and reduced price meals.

The Department also initiated a program this year to recognize schools and farmers who work together to ensure students have access to healthy Jersey Fresh fruits and vegetables in their school cafeterias.  The Jersey Fresh Farm to School Recognition Program helps schools expand their farm to school efforts, highlight Jersey Fresh produce in their meals and educate students about good nutrition and the state's agriculture industry.  The program is a new marketing opportunity for farmers to strengthen the relationship between their farm and the community.  Schools in the recognition program are required to have programs during Jersey Fresh Farm to School Week.  The applications for the recognition program can be found online at: http://bit.ly/1erIfPb.

By law, Farm to School Week takes place each year the last week in September.  For more information about the Farm to School Program, visit www.nj.gov/agriculture/divisions/fn/childadult/farm_to_school.html.