CHRISTIE ADMINISTRATION CELEBRATES JERSEY FRESH FARM TO SCHOOL WEEK IN SALEM COUNTY
Career and Technical H.S. Students Taste-Test Garden Menu Items

For Immediate Release: September 25, 2014
Contact: Lynne Richmond
(609) 633-2954
lynne.richmond@ag.state.nj.us 


(WOODSTOWN) – New Jersey Secretary of Agriculture Douglas H. Fisher celebrated the fourth annual Jersey Fresh Farm to School Week on Wednesday, September 24 with a visit to Salem County Career and Technical High School in Woodstown, where students taste-tested salsa during their lunch period.

The Department of Agriculture's Jersey Fresh Farm to School Week, taking place September 22 to 26, highlights efforts to connect schools with New Jersey farmers to purchase local produce for school meals.  It also seeks to teach children where their food comes from by growing it themselves in school gardens. 

"Farm to School Week is a great time for schools to celebrate New Jersey's abundance of fresh produce grown so close to where we live and to teach children the health benefits of eating fruits and vegetables," said Secretary Fisher.  "We applaud the schools that have connected with our farmers and regularly serve local produce to their students."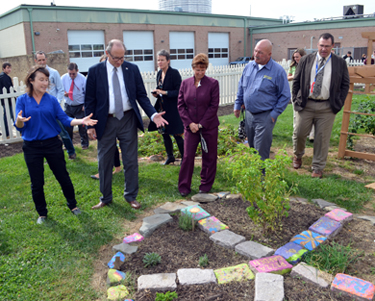 Carly Chaapel, school garden coordinator shows Secretary Fisher, Freeholders Julie Acton and Bruce Bobbitt and District Superintendent John Swain
At Salem County Career and Technical High School, Secretary Fisher joined students in taste-testing salsa, visited the school's garden and learned about their Farm2You project.  Students also were able to sample produce in the cafeteria from A.T. Buzby Farm in Pilesgrove.

Carly Chaapel, the district's Garden Coordinator, said the salsa was made from the school's summer garden, with yellow pear tomatoes, various heirloom varieties, plum tomatoes and peppers.  They had a volunteer day in July where they chopped, cooked and froze the salsa.  Last year, she worked with school food service on tastings of local produce and she plans to continue that this year to assist in incorporating new menu items that feature seasonal, fresh produce,

As a FoodCorps service member last school year, Chaapel helped start the school's garden, growing a wide variety of fruits, vegetables and herbs.  Now that she works for the district, the school has another FoodCorps service member, Annalise Van Vranken, who is helping with garden projects.

"I try to follow 'seed to plate' when I can, taking the same class out to plant the seeds, tend the plants, harvest and cook," said Chaapel.  "I find ways to make learning in the garden applicable to nearly every class, so it really becomes a communal space.  The kids want to come out and help all the time."

Chaapel said Farm2You is a joint project between the Salem County Vocation Technical Schools, Rutgers Cooperative Extension of Gloucester County, Salem County Health Department, Salem County Health and Wellness Foundation and FoodCorps service members.  They received a truck for free from the Special Services District.  The students have done all the labor to make the truck into a mobile educational tool that will bring farm to school to Salem and Gloucester counties.  She envisions visiting schools with the truck filled with produce purchased from local farmers.

There has been much focus on Farm to School recently.  Lt. Governor Kim Guadagno last month signed a package of bills that support New Jersey's Farm to School program by increasing student access to healthy, locally grown foods.

For the first time, the Department of Agriculture will provide additional funds this school year to schools for connecting their Fresh Fruit and Vegetable Program with the Farm to School Program.  The schools must provide Jersey Fresh produce a minimum of two days each month from September to November and from April to June and must verify where the produce was grown.  Eighty percent of the 158 schools are participating. The Fresh Fruit and Vegetable Program is federally-funded and administered by the New Jersey Department of Agriculture to provide healthier food choices; expand the variety of fruits and vegetables children experience; and increase children's fruit and vegetable consumption.

The Department also initiated a program this year to recognize schools and farmers who work together to ensure students have access to healthy Jersey Fresh fruits and vegetables in their school cafeterias.  The Jersey Fresh Farm to School Recognition Program helps schools expand their farm to school efforts, highlight Jersey Fresh produce in their meals and educate students about good nutrition and the state's agriculture industry.  The program is a new marketing opportunity for farmers to strengthen the relationship between their farm and the community.  Schools in the recognition program are required to have programs during Jersey Fresh Farm to School Week.  The applications for the recognition program can be found online at: http://bit.ly/1erIfPb.

By law, Farm to School Week takes place each year the last week in September.  For more information about the Farm to School Program, visit www.nj.gov/agriculture/divisions/fn/childadult/farm_to_school.html.