CHRISTIE ADMINISTRATION PRESENTS FIRST "BEST FARM TO SCHOOL" AWARD TO GLASSBORO SCHOOL
For Immediate Release: September 29, 2016
Contact: Lynne Richmond (609) 610-3526
E-mail: lynne.richmond@ag.state.nj.us
Bullock School Recognized for Excellence in Connecting Students with Fresh, Local Produce
(GLASSBORO) – New Jersey Secretary of Agriculture Douglas H. Fisher presented Dorothy L. Bullock School with the Best in New Jersey Farm to School Award last night during the Glassboro Board of Education Meeting. The presentation took place during the celebration of the 6th annual Jersey Fresh Farm to School Week being held September 26-30.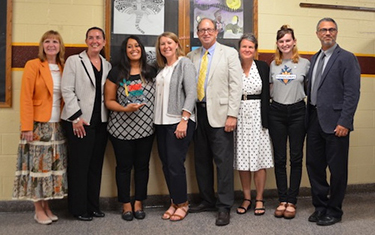 Left to right: Luanne Hughes, FCHS Rutgers Cooperative Extension; Rose Tricario, NJDA Director, Food and Nutrition Services; Sonya Harris, Dorothy L. Bullock School Educator; Chris Cirkus, NJDA Farm to School Assistant Coordinator; Secretary Doug Fisher; Beth Feehan, NJDA Farm to School Coordinator; Amy Jacobs, FoodCorps New Jersey Fellow; John Henry, NJ School Boards Association
"We applaud Bullock School and the Glassboro School District not only for all the effort put into their Farm to School program but the enthusiasm with which they have approached it," said Secretary Fisher. "From their enormous and diverse school garden to joining with school food service and the community, Bullock School exemplifies the spirit of this award. We also want to congratulate teacher Sonya Harris who spearheaded the program."
The Bullock School was extremely successful due to the support received from all aspects of the school and local community. The district food service provider, Nutri-Serve Food Management Company, featured produce from the school garden in the cafeteria and children had the opportunity to make salsa with ingredients grown in the school garden. In the fall, there was an apple tasting contest featuring local apples. The school promoted Farm to School on a website as well as through principal announcements over the intercom. Across the school, there was enthusiasm and support for these important learning opportunities that connected students to nearby farms.
"The Dorothy L. Bullock School Children's Garden encourages community collaboration and presents students with opportunities to cultivate seeds, cook nutritious foods and compost plants. The school's Jersey Fresh Farm to School participation has inspired our district to plan future gardens at each of our schools," said Dr. Mark J. Silverstein, superintendent of the Glassboro School District. "We thank the New Jersey Department of Agriculture for honoring Bullock with the Best in New Jersey Farm to School Award, and we thank the many people and organizations who made our garden possible."
Secretary Fisher also announced 14 schools from around the state that entered the Farm to School Recognition Program for the current school year. They were required to show evidence of working with farmers and the community to ensure students have access to healthy Jersey Fresh fruits and vegetables in their school cafeterias and teaching about agriculture through growing school gardens. Other requirements included: utilizing produce from their school gardens, offering a salad bar, connecting farm to school activities to curriculum and involving the community.
The Farm to School Recognition Program Schools are: Cape May City Elementary School, Cape May; Anthony V. Ceres Elementary School, Perth Amboy; Dorothy L. Bullock School, Glassboro; Faber Elementary School, Dunellen; Glen Meadow Middle School and Rolling Hills Primary School, Vernon; Hedgepeth/Williams Middle School and Robeson Elementary School, Trenton; Hopewell Elementary School, Hopewell; Reading-Fleming Intermediate School, Flemington; Timber Creek Regional High School, Blackwood; Upper Township Middle School, Petersburg; Weymouth Township School, Dorothy; and Windsor Preparatory School, Paramus.
These schools received Jersey Fresh Farm to School promotional materials kit, including a Jersey Fresh Farm to School banner, aprons, pencils, pins, key chains, seasonality charts and media templates.
Jersey Fresh Farm to School Week was designated as the last week of each September by a law signed in 2010 by Governor Christie. During this week, the New Jersey Department of Agriculture has been showcasing schools that connect with New Jersey farmers to purchase local produce for school meals to increase student consumption of healthy produce.
Farm to School programs provide hands-on, experiential learning opportunities to help students learn about local agriculture, how food grows and what it means to eat healthfully with lots of fresh fruits and vegetables.
Farm to School activities can include, but are not exclusive to:
Nutrition education, including taste tests with produce purchased from local farms
Harvest meals serving locally sourced products from New Jersey farms
Farm to School curricular tie-ins that connect the cafeteria to the classroom or school garden
Visits to or from local farms that teach students how food is grown
School garden education that ties directly into what is already being taught in the classroom
To learn more, visit www.farmtoschool.nj.gov.