CHRISTIE ADMINISTRATION MARKS SECOND PHASE OF WRECK POND RESTORATION PROJECT
CONSTRUCTION OF NEW OUTFALL MARKS MILESTONE IN TRANSFORMATION OF
MONMOUTH COUNTY COASTAL LAKE INTO ECOLOGICAL GEM
(16/P1) TRENTON – Continuing efforts to develop innovative resiliency strategies to protect communities from storms and flooding, the Christie Administration – in conjunction with the American Littoral Society, the U.S. Fish and Wildlife Service, U.S. Representative Christopher Smith, and local municipalities – today marked the beginning of the second phase of work to restore Wreck Pond, a unique coastal lake that was severely impacted by Superstorm Sandy and has had a long history of flooding and water quality problems.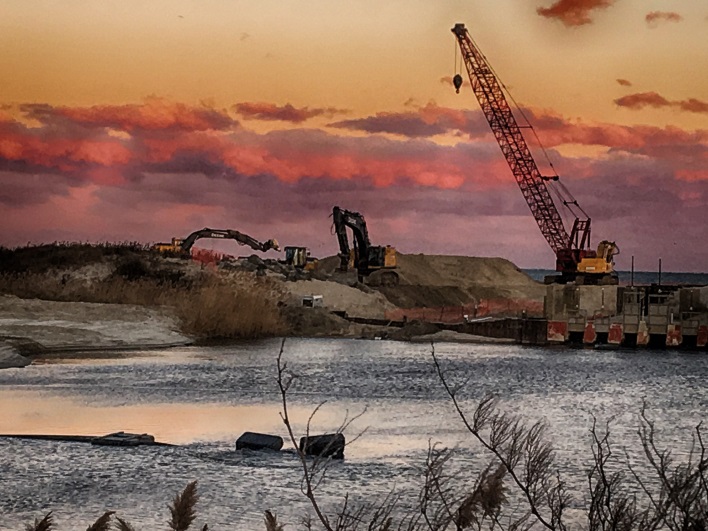 Governor Christie announced the start of the $7.4 million project in Spring Lake on July 23. Since then, dredging of the 73-acre lake has been completed by the Monmouth County Department of Public Works and Engineering.
For the second phase, construction will now begin on an outfall system that will improve tidal ocean flows into the lake while providing protection to surrounding neighborhoods from flooding. Work will also begin on other significant ecological enhancements, including creation of ecosystems using dredged materials and native plants.

Department of Environmental Protection (DEP) Commissioner Bob Martin was joined today by a host of state, local and federal officials during a news conference at Wreck Pond marking the milestone.

"Since 2010, the Christie Administration has made a strong commitment to Wreck Pond to address flooding and water quality issues," Commissioner Martin said. "Today marks an important step toward our shared goal of making Wreck Pond the ecological gem that it can be. By restoring tidal flows to the lake, the outfall system will set the stage for creation of living shorelines that will create natural habitats and provide a buffer against flooding.
"I commend the American Littoral Society, the U.S. Fish and Wildlife Service and all of our partners in helping put together the multiple funding sources necessary to transform a body of water that has been very ill for many years into a living lake again," Commissioner Martin said.

"Through a coordinated effort on the part of federal, state and local officials, as well as our environmental non-profit partners, residents and beach goers will now be better protected from the environmental and public health risks and flooding that have long plagued southern Monmouth County as a result of the pollution at Wreck Pond," said Congressman Smith, who represents New Jersey's Fourth Congressional District. "For many years, I have worked with stakeholders seeking, and ultimately now securing, a long-term, sustainable solution and I look forward to marking this milestone in our efforts to make Wreck Pond pure and pristine once again."
Governor Christie announced a $3.85 million grant for the project through the DEP's Flood Hazard Risk Reduction and Resiliency grant program last summer. Another $608,000 earmark from the DEP's Corporate Business Tax grant program is being used for the project.
The Sandy Hook-based American Littoral Society is administering a $2 million U.S. Department of Interior grant to the U.S. Fish and Wildlife Service for part of the outfall construction work and a portion of dune construction. The Borough of Spring Lake is contributing $915,000 from the sale of three properties.

"This project helps restore the shore's ecology and makes several communities more resilient to future storms," said American Littoral Society Executive Director Tim Dillingham. "By restoring and building with nature, instead of ignoring it, it also provides a cutting-edge example of how we should rebuild other places impacted by the storm. This should be the beginning of living with the Jersey Shore, instead of just on the shore. The broad partnership supporting this work is key to its success, and is also a model for future work."
"The U.S. Fish and Wildlife Service is proud to support and celebrate the project at Wreck Pond and the partnership that is making it happen," said Eric Schrading, Field Supervisor for the Service's New Jersey Field Office in Pleasantville. "The project will improve aquatic connectivity by allowing species such as migratory fish to move more freely from the ocean into Wreck Pond and back. At the same time, it will improve water quality by increasing tidal flushing in Wreck Pond. And finally, it is a sound investment in building a stronger coast for the future through enhanced storm protection."
Wreck Pond is one in a string of unique coastal lakes in Monmouth County being restored through partnerships coordinated by the Christie Administration. The DEP in partnership with the U.S. Department of Agriculture's Natural Resource and Conservation Service has already completed a variety of infrastructure repair and stabilization projects at Lake Fletcher, Lake Como, Lake Takanassee, Lake Wesley, Sylvan Lake and Deal Lake.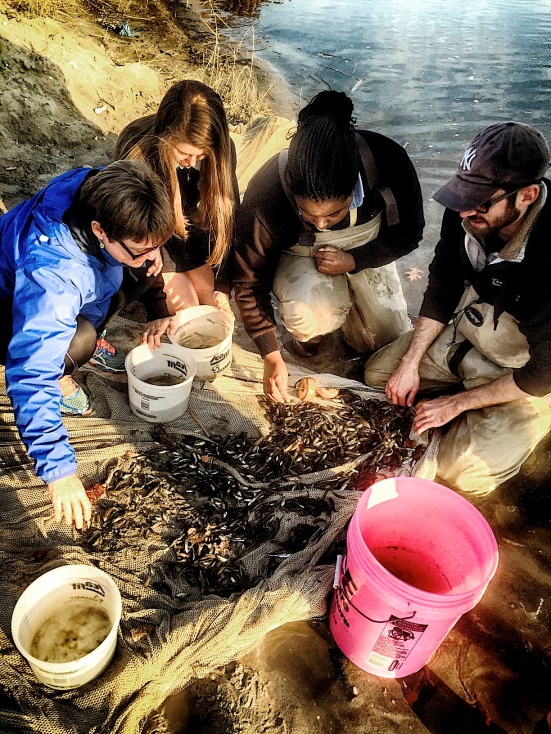 The Wreck Pond watershed encompasses about 13 square miles of Wall Township and the boroughs of Spring Lake Heights, Spring Lake and Sea Girt. Over the years, poor stormwater outflows from the lake caused excessive nutrient buildup that degraded water quality in Wreck Pond.

In addition to dredging materials to deepen the lake, key components of the restoration project are creation of a living shoreline and vegetated berms that will play an important role in mitigating flooding and improving water quality within Wreck Pond. The Wreck Pond outfall will be constructed to allow fish to enter the lake and access spawning areas in numerous tributaries. The state-of-the-art outfall will allow better drainage and mitigate flooding.

A living shoreline is a shoreline management practice that utilizes approaches such as plantings of natural vegetation and shellfish to create habitat and reduce flooding as an alternative to structures such as bulkheads.

At Wreck Pond, living shorelines will be created from the planting of native grasses that will create "low-marsh" and "high-marsh" zones that will provide shoreline stability, create habitat for aquatic life, and filter stormwater runoff laden with nutrients that contribute to degraded water quality.

In addition, vegetated berms are being constructed from sand and silt dredged from Wreck Pond. The berms will be built in low-lying areas along the northern shoreline of Wreck Pond, the North Branch of Wreck Pond Brook (also known as Black Creek) and the southern shoreline in Sea Girt.

The berms will be planted with native shrubs including bayberry, Virginia rose and Groundsel tree. A mixture of other native plants will be planted as an understory for the larger shrubs.

The DEP has been coordinating a $50 million Flood Hazard Risk Reduction and Resiliency grant program funded by the U.S. Housing and Urban Development's Community Development Block Grant – Disaster Recovery (CDBG-DR) program.

In addition to the $3.85 million in funding for the Wreck Pond project, the first phase of the Flood Hazard Risk Reduction and Resiliency grant program is helping municipalities develop and construct a wide variety of coastal resiliency projects, including $6.5 million for a canal pump station in Atlantic City, $6.2 million for an outfall project for Belmar's Lake Como, $1.4 million for new pump stations in Brigantine, and $653,000 for tide gate improvement in Little Ferry.

This past October, the DEP announced that the second $25 million round of funding under this program is now available to Sandy-impacted communities. A number of counties and municipalities have expressed interest in applying for funds. The DEP is committed to working with these communities to develop successful applications.

The application period closes April 20, 2016. For more information on the DEP's Flood Hazard Risk Reduction and Resiliency grant program, including guidelines, visit: http://www.nj.gov/dep/floodhazard/grants.htm

For more information from the DEP on Wreck Pond restoration, visit: www.nj.gov/dep/wreckpond/

For information on Wreck Pond from the American Littoral Society, visit: http://WreckPond.org