COMMISSIONER MARTIN LEADS VOLUNTEERS IN SEVENTH BARNEGAT BAY BLITZ
WATERSHED-WIDE CLEANUP ENHANCES PUBLIC STEWARSHIP OF UNIQUE NATURAL RESOURCE
(16/53) TRENTON – Thousands of volunteers, many of them students, are joining Department of Environmental Protection (DEP) Commissioner Bob Martin today for the seventh Barnegat Bay Blitz, a day-long cleanup that draws attention to efforts to protect and enhance the bay and its watershed.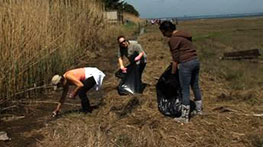 The Blitz demonstrates the Christie Administration's continued commitment to protection of Barnegat Bay. It also allows residents to directly participate in the Governor's comprehensive restoration plan for the bay by enhancing public awareness and stewardship of this natural resource. The bay's 660-square-mile watershed spans all or parts of 37 municipalities in Ocean and Monmouth counties.
More than 5,000 volunteers registered for their year's Blitz, which includes more than 4,000 students and hundreds of community and corporate volunteers and DEP staff.
"The Christie Administration remains committed to the ecological protection, enhancement and science-based solutions needed to restore Barnegat Bay, a unique ecological treasure and important asset to our tourism economy," said Commissioner Martin. "The blitz has become a tradition that pulls together people from many walks of life who share a common bond – their love of Barnegat Bay. I thank each and every one of them for doing their part to help the bay, and encourage others to follow their lead by making stewardship of this resource part of their daily lives."

Teams this morning fanned out to key locations around the watershed, targeting a wide variety of areas, including wetlands, stream banks, storm water discharge points, schools, trails, docks, areas around bulkheads and the waters of the bay itself. Each team is led by a captain, typically an employee of the DEP. Kick-off ceremonies took place at Ocean County Park in Lakewood, where Commissioner Martin announced an environmental restoration project planting native vegetation along the Schoolhouse Branch of the Metedeconk River.
"In addition to improving the health and beauty of the bay, the Barnegat Bay Blitz has raised public awareness about the ecological pressures the bay faces and the Administration's comprehensive plan to restore and enhance this unique body of water," said Lynnette Lurig, A DEP research scientist who organized the event. "This program has planted the seeds of environmental activism and awareness not just in children but in the many people who live and work in the bay region."

The first Barnegat Bay Blitz was held in October 2011, and has grown significantly in terms of participants and materials collected ever since.
Last year's Blitz drew some 4,300 volunteers and students, who collected about 1,200 bags of garbage and recyclables, filled eight dumpsters with 250 cubic yards of debris, and provided valuable hands-on experience for students from the MATES Academy at Ocean County College. By enhancing education and public appreciation of the bay, the Blitz is a key component of Governor Christie's Comprehensive Action Plan for the bay, launched in December 2010.

Key accomplishments under the comprehensive plan include:
Tens of millions of dollars made available to local governments for stormwater infrastructure upgrades;
Ten research projects resulting in the most comprehensive compilations of research on any estuary, including studies on water quality, harmful algae blooms, assessments of fish and crabs, and ways to reduce stinging sea nettles;
New Jersey's first comprehensive water monitoring network for both fresh and marine water quality;
Preservation of more than 3,000 acres of open space in the watershed and a state commitment to acquire 30,000 acres over the next several decades;
Green boater sweeps to educate boaters about the need to protect ecologically sensitive areas, such as shellfish growing areas, shorebird nesting areas and submerged aquatic vegetation;
The nation's toughest law regarding restrictions on lawn fertilizers that cause runoff that degrades water quality across the state;
A commitment by Exelon Corp. to decommission the Oyster Creek nuclear reactor in Lacey Township by the end of 2019.
Long, shallow, and in many areas very narrow, Barnegat Bay is susceptible to the impacts of stormwater runoff and accumulation of trash and debris along its shorelines and in its wetlands.

Removal of trash and debris throughout the watershed, which covers all 33 municipalities in Ocean County and four municipalities in Monmouth County, is critical because these materials can otherwise ultimately enter the bay through stormwater discharges, degrading the ecological and scenic value of the bay.
Stormwater also carries other pollutants such as common lawn fertilizers, automotive fluids and silt that degrade wildlife habitat and water quality in the bay and its tributaries. Trash collected today is being turned over to local public works departments for proper disposal.

In addition to the DEP, Blitz sponsors include New Jersey Clean Communities, the New Jersey Environmental Infrastructure Trust, Wawa, Waste Management, TowBoat US, the U.S. Geological Survey, New Jersey Natural Gas, Rowbear, Ocean Spray, Suez-United Water; Ocean County government, PS&S, Firestone, the Conserve Wildlife Foundation of New Jersey, ReClam the Bay, AmeriCorps Watershed Ambassadors, the Barnegat Bay Partnership and the U.S. Coast Guard.

For more information on the Barnegat Bay Blitz, visit:
http://www.nj.gov/dep/barnegatbay/bbblitz.htm
For more information on the Governor's comprehensive action plan, visit: http://www.nj.gov/dep/barnegatbay/