Allaire State Park Gets in Holiday Spirit with Annual Programs
Family Friendly Events are Scheduled Throughout December
(17/P112) TRENTON – December at Allaire State Park in Monmouth County will be filled with a variety of holiday activities ranging from a performance of "A Christmas Carol" to events such as caroling, wagon rides, and evening tours of a historic village by lantern light, the State Park Service announced.
These and other activities are sponsored by Allaire Village, Inc., a non-profit educational and historic preservation partner of the park. Events include a sold-out performance on December 1 of the holiday classic "A Christmas Carol," as well as a sunset candlelit service in the park chapel on December 23.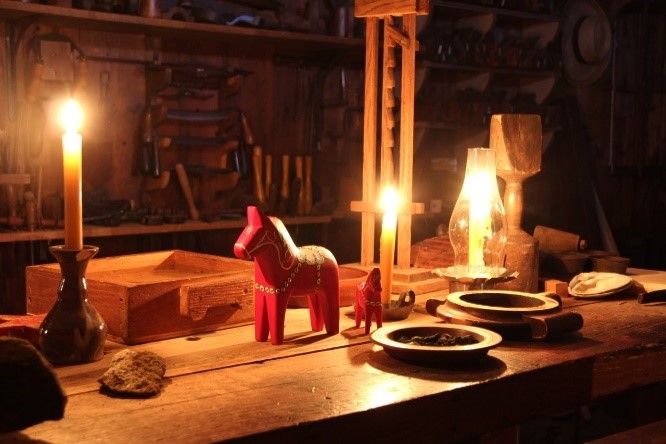 "The holiday season in New Jersey is welcomed each year with an exceptional range of programming at our state parks and historic sites," said Mark Texel, Director of the Division of Parks and Forestry. "The variety of events and activities at Allaire State Park, in particular, have become a holiday staple for many families, and we encourage everyone to enjoy the special experience offered at Allaire."
"Is Allaire part of your family's annual Christmas tradition? Step back in time and enjoy music, singing, dancing, craft demonstrations, hearth cooking, a visit by St. Nicholas, horse and carriage rides, story-telling, and much more," said Hance Sitkus, Board of Trustees Chairman for Allaire Village Inc. "Check out the 'All Aboard for Christmas' model train set. Receive a custom postal cancellation mark on Christmas cards mailed from the Allaire Station post office. Learn about various 19th century Christmas traditions from our costumed historical interpreters. And, the historic buildings will be decorated for the season."
Advance tickets are highly recommended for all Allaire Village Inc. events. Walk-up tickets are more readily available for Christmas at Allaire activities. Tickets for events presented by Allaire Village Inc. can be purchased by calling (732) 919-3500 or visiting the Events link at www.allairevillage.org. The Historic Village at Allaire is at 4263 Atlantic Avenue in Farmingdale.
Dates and times for holiday activities at Allaire State Park this year include:
Christmas Lantern Tours:
December 2, 8, 9, 15 and 16
5-8 p.m.
Enjoy the spirit of the season with a stroll through Allaire's Historic Village to experience the holiday season of 1836. Traditional 19th century activities planned during the tours include music, history and a bit of theater. Tours last 90 minutes and leave every 15 minutes. Lantern tours are not recommended for children younger than 5 years old because they are walking tours and strollers are not permitted in buildings. Admission is $15 per person. Timed tickets are available for purchase, on a first-come, first-served basis. Visitors are encouraged to bring flashlights to guide their footing.
Christmas Express:
December 2, 9 and 16
11 a.m. to 4:30 p.m. and 6 p.m. to 8:30 p.m.
December 3, 10 and 17
11 a.m. to 4 p.m.
More trains have been added this year due to the popularity of this event, in which Santa Claus rides the train along the Pine Creek Railroad and talks to each child aboard. Visitors are encouraged to call ahead the day they want to ride the railroad, to ensure availability. Admission is $6 per person. All tickets must be purchased in person, at the train ticket office in Allaire State Park. Every person on the board the train must have a ticket, regardless of age. Trains leave every 30 minutes, weather permitting.
Christmas at Allaire:
December 3, 10 and 17
11 a.m.-4 p.m.
Walk through the historic village to experience hearth cooking, singing, dancing and wagon rides, and to meet St. Nick. Various interactive programs are scheduled throughout the day. Visitors are encouraged to bring their stamped and addressed holiday cards to be sent from the historic post office in the General Store and receive a special Allaire stamp cancellation that showcases a historic building. Admission is $7 for adults; $5 for children under 12. Horse and wagon rides are an additional charge.
To learn more about Allaire State Park, visit: www.nj.gov/dep/parksandforests/parks/allaire.html
To learn more about the Historic Village at Allaire, visit: www.allairevillage.org
For more about the New Jersey Museum of Transportation, visit: www.njmt.org
To learn more about New Jersey's Parks, Forests and Historic Sites, visit: www.nj.gov/dep/parksandforests/
Like the New Jersey Division of Parks and Forestry page on Facebook: www.facebook.com/newjerseystateparks
Follow the New Jersey State Park Service on Instagram @newjerseystateparks
###
Photo: Volunteer Allaire Photographers