The Office of Natural Resource Restoration has the primary responsibility within the New Jersey Department of Environmental Protection for responding to discharges and other sources of pollution that trigger the DEP's obligations as the trustee for all of New Jersey's natural resources for the benefit of all of its citizens, now and in the future. This effort includes working with the persons responsible for conducting the remediation to return such natural resources to their pre-discharge quality, quantity, function, and value, and to implement restoration projects to compensate New Jersey citizens for the lost interim value or for the permanent loss of their natural resources.
The information presented on this website is intended to educate the public and the regulated community about DEP's natural resource restoration program. The DEP is committed to restoring negatively impacted and lost natural resources through its Office of Natural Resource Restoration. Access the links on the left to learn more about this important program and how it works to improve our quality of life.
All of the information on this website is provided for informational purposes only and may not reflect the current law or policies applicable to the Office of Natural Resource Restoration because these laws and policies may change at any time.
NOTE: Our contact information has changed.
New Jersey Department of Environmental Protection
Office of Natural Resource Restoration
Mail Code 501-01
P.O. Box 420
Trenton, NJ 08625-0420
Tel. (609) 984-5475
Fax. (609) 984-0608
onrr@dep.nj.gov
Register for Additional Public Meetings for Liberty State Park Interior Restoration Project.
In response to feedback received by stakeholders, DEP has scheduled two additional public meetings to provide time for in-depth discussion and feedback:

Remediation of the Interior of Liberty State Park
January 7, 2021 — View the meeting recording
Options for Active Recreation Amenities
Virtual Meeting —Thursday, January 21, 2021 at 6:00 p.m.
Register now

Please note that you can also join by calling in to the meeting via phone, however you will be in listen-only mode.
Following these meetings, please submit any written comments to https://www.surveymonkey.com/r/5HV2LDJ by February 18, 2021
Natural Resource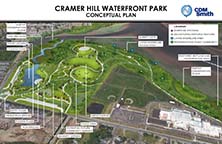 Camden - Cramer Hill
Waterfront Park Project
Liberty State Park Natural Resource Restoration Project
Paulins Kill and Pequest Watersheds Natural Resource Restoration Grant