This single room cabin is a rare remaining example of handhewn, white cedar plank construction and reflects a traditional Swedish cabin. This cabin, with its glazed windows, is more elaborate than those typically constructed in the seventeenth-century.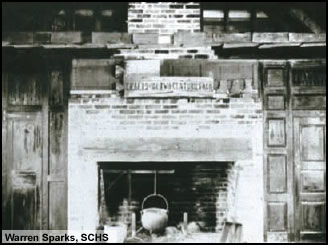 Cabin Interior 1934. The woodwork on either side of the fireplace came from two local houses, the Abel Nicholson House (1722) and the John Oakford House (1764), when the cabin was built as in interpretive project by the CWA (Civil Works Administration).
Known as stugar, which translates to "room inside," these cabins were built in small clusters or stood alone, depending on the size of the farm. Swedish settlers established small communities throughout Salem, clearing only enough land to farm.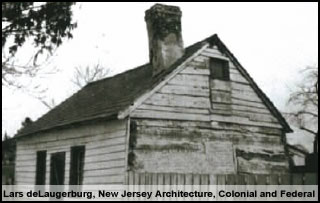 Tyler Cabin From which the lumber was obtained to build the Swedish cabin
This cabin was rebuilt in 1931 using lumber that is over 400 years old. It was salvaged from the property of John J Tyler in Salem. The cabin's construction follows the traditional building techniques of the seventeenth-century, with four-inch thick side planks, dovetailed corners, a fireplace and wooden pins instead of nails.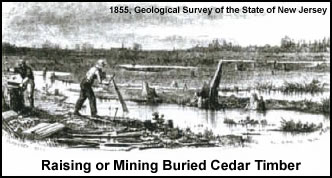 White cedar was "mined" from the swamp by teams of men excavating the logs. Originally, cedar trees grew in freshwater marshes. When saltwater intruded hundreds of years ago they died. Salt, lack of Oxygen and a coating of silt, preserved the fallen trees. This wood, recognized for its quality and durability, was also used for shingles and staves.