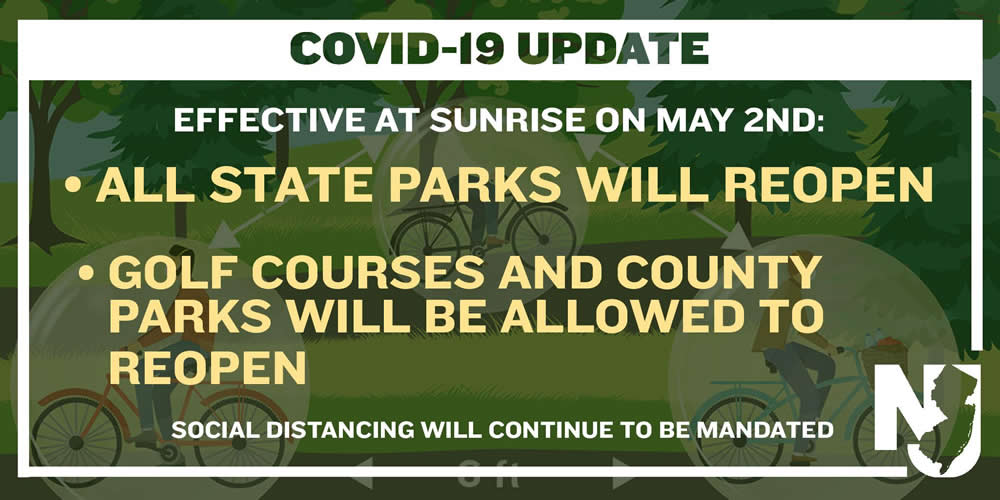 MASKS REQUIRED in New Jersey state parks and forests
Over the next few weeks, parks and forests continue to re-open services and amenities. With more amenities, visitors will be in contact with others more often. As such, it is now required that you bring a mask with you to parks and "MASK UP" when near others.
Masks now required at:
Toll booths
Trails, paths, & beach access
Parking lots
Restrooms
Park buildings as they re-open
If you are visiting a state park, don't leave home without your mask! You don't have to wear the mask when alone in the forest but be sure to MASK UP around others.
Governor's executive order reopening parks
Parks re-open Saturday, May 2
Passive use only
Social distancing required
Face covering strongly encouraged
Parking reduced 50%


VISIT PARKS TO
Hike/Walk
Horseback Ride
Bicycle
Fish/Hunt (with permit)
Boat/Canoe/Kayak
Bird/wildlife watch
To help keep NJ families safe from COVID-19, certain activities and amenities are not permitted/open. We will reevaluate this list as virus cases in New Jersey continue to decline.
Restroom are open.
List of Open restrooms.
NOT OPEN AT THIS TIME

Camping
Buildings
Pavilions & playgrounds
Picnic areas
Education programs
Food concessions
Swimming
PARKING CAPPED at 50% CAPACITY
Available parking at parks is limited to 50% of the maximum capacity at one time, and visitors are prohibited from parking in undesignated areas, including in roadways.

STAY SAFE WHILE VISITING PARKS
Only visit with your immediate family
Make space for others on trails
Leave crowded park areas
Go before you go — restrooms are closed
Follow NJ Dept of Health and CDC recommendations
Learn more tips in our social distancing video: https://youtu.be/x4hc2d0ZKAM

New Jersey Parks from Home
Please continue enjoying #njparksfromhome, our social media campaign that brings our parks, forests, and historic sites to you virtually. We will continue this initiative while buildings remain closed. New Jerseyans can find these daily posts; virtual tours; online Q&As with naturalists and historians; and more on our Facebook and Instagram accounts.
Updates on COVID-19 in New Jersey
Learn more about COVID-19 in New Jersey: http://covid19.nj.gov

NJ residents can call 211 with questions or concerns about COVID-19 and to learn resources available to them.

Residents can also text NJCOVID to 898-211 to subscribe to text message updates on NJ COVID-19.
WE ARE ALL IN THIS TOGETHER
To keep your family and our entire New Jersey family safe, stay home, practice good hygiene and follow all State and CDC guidelines concerning COVID-19.

MORE INFO
To learn more about COVID-19 or find resources, go to https://www.COVID19.NJ.GOV, text NJCOVID to 898-211, or call 211.
For updated parks information, please follow www.facebook.com/newjerseystateparks or visit the Division of Parks and Forestry's website: https://njparksandforests.org