Delaware River Basin Commission
---
Delaware • New Jersey • Pennsylvania
---
New York • United States of America
---
Home
>
News Bytes
>
DRBC Staff Demonstrate its HOBO® Loggers to NJDEP Staff
DRBC Staff Demonstrate its HOBO® Loggers to NJDEP Staff
John Yagecic, Standards and Assessment Section Supervisor for DRBC's Modeling, Monitoring, and Assessment Branch, was out in the field on April 11, 2013 with staff from the New Jersey Department of Environmental Protection (NJDEP) demonstrating how DRBC utilizes its HOBO® dissolved oxygen loggers, which record continuous measurements of dissolved oxygen from a waterway.
DRBC has two HOBO® dissolved oxygen loggers, in addition to several HOBO® conductivity loggers, which are currently deployed in the upper Delaware River Basin.
NJDEP staff were shown how to calibrate the instruments and how DRBC has successfully deployed them in waterways. The two dissolved oxygen loggers were placed in the Delaware River at Scudders Falls and in Gold Run, a tributary to the Delaware River.
DRBC will retrieve the meters later this month, process the data collected, and share with NJDEP.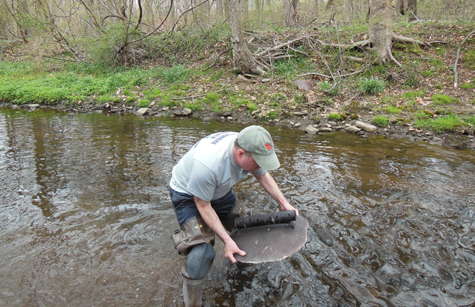 Commission Member Links:
Delaware
|
New Jersey
|
Pennsylvania
|
New York
|
United States
Copyright © Delaware River Basin Commission,
P.O. Box 7360, West Trenton, NJ 08628-0360
Phone (609)883-9500; Fax (609)883-9522
Thanks to NJ for hosting the DRBC website
Last Modified: 04/15/2013