Delaware River Basin Commission
---
Delaware • New Jersey • Pennsylvania
---
New York • United States of America
---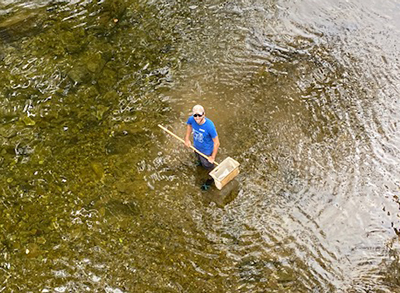 DRBC Aquatic Biologist Jake Bransky prepares to collect
a macroinvertebrate sample, a biological indicator of
water quality. Photo by DRBC.
The Delaware River Basin Commission (DRBC) was created on October 27, 1961, when concurrent compact legislation ratified by Delaware, New Jersey, New York, Pennsylvania and the U.S. Congress became law.
• Delaware River Basin Compact (pdf)
The Delaware River Basin Compact describes the powers and duties of the Commission. Simply, the DRBC is responsible for ensuring (1) an adequate and sustainable water supply and (2) clean and healthy water resources.
Major DRBC programs include:
• Water Quality
• Water Supply Planning and Water Conservation Initiatives
• Project Review/Permitting (Regulatory Review)
• Flow Management/Hydrology (incl. Drought Management)
• Flood Loss Reduction
Choose one of the tabs in the above navigation bar for detailed information on DRBC program areas.
More Information:
Commission Member Links:
Delaware
|
New Jersey
|
Pennsylvania
|
New York
|
United States
Copyright © Delaware River Basin Commission,
P.O. Box 7360, West Trenton, NJ 08628-0360
Phone (609)883-9500; Fax (609)883-9522
Thanks to NJ for hosting the DRBC website
Last Modified: 11/27/2023