Delaware River Basin Commission
---
Delaware • New Jersey • Pennsylvania
---
New York • United States of America
---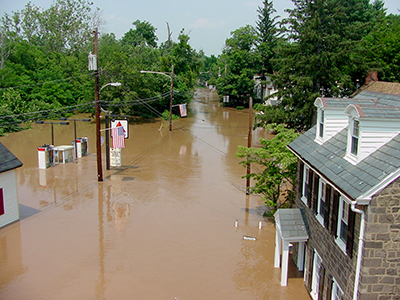 June 2006 flooding in Yardley, Pa. Photo by DRBC.
The Delaware River Basin's flood of record is August 1955. It was one of the primary reasons that led to the creation of the DRBC in 1961.
For the next 50 years or so, the Delaware River Basin experienced some flood events, but nothing like that seen in 1955. That is, until 2004-2006, when the basin experienced three major mainstem flooding events in roughly two years (September 2004, April 2005 and June 2006).
Learn more: Flooding Events in the DRB
There are different types of flooding: flash flooding from storms that cause street flooding or tributaries to rise quickly, tidal flooding in the Delaware River Estuary, and river flooding that causes the mainstem Delaware River to overflow its banks.
During times of flooding, it is important to track real-time conditions and flood forecasts to know which areas in the basin may be flooded and when rivers and streams are expected to flood and how much. Visit the below link for more info.
Learn more: DRBC Flood Resources Portal
Reducing flood loss is a responsibility shared by the DRBC, federal, state and local governments throughout the basin.
Learn more about DRBC's flood loss reduction efforts by visiting the links on the right.
Commission Member Links:
Delaware
|
New Jersey
|
Pennsylvania
|
New York
|
United States
Copyright © Delaware River Basin Commission,
P.O. Box 7360, West Trenton, NJ 08628-0360
Phone (609)883-9500; Fax (609)883-9522
Thanks to NJ for hosting the DRBC website
Last Modified: 04/04/2023