Delaware River Basin Commission
---
Delaware • New Jersey • Pennsylvania
---
New York • United States of America
---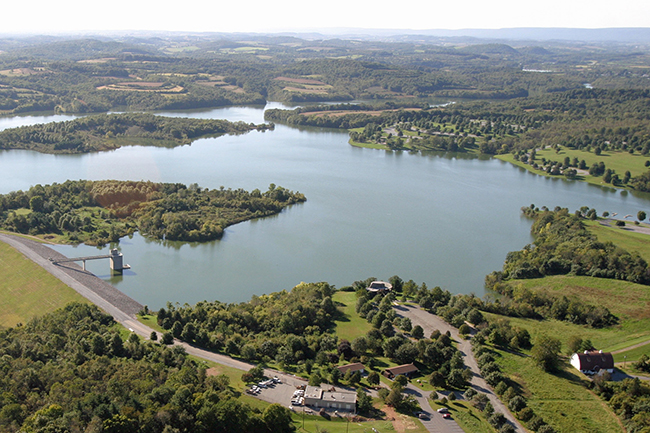 Blue Marsh Reservoir. Photo courtesy of the U.S.
Army Corps of Engineers.
Understanding water withdrawals, water use and supply is integral to the DRBC's management of water resources.
In order to meet the needs of present and future populations and ensure that ecosystems are protected:
• Water resources must be properly managed, efficiently utilized and responsibly conserved

• Water efficiency should be practiced at all times

• Reducing water use not only provides significant economic and environmental benefits, but can help avoid or delay the imposition of drought declarations.
The DRBC employs a comprehensive water conservation program, which has become an integral component of its broader strategy to manage water supplies & plan for future water needs throughout the Basin.
Key Components of DRBC's water supply planning and water conservation programs:
• Basin Water Use - Staff perform key sector trend analyses (e.g., public water supply, power generation, industry) to ensure that there is enough water to meet current and future demand, as well as during extreme conditions (for example, drought). Projections are also made based on historical withdrawal data.

• Water Conservation Program - Over the years, the DRBC has passed numerous resolutions focused on water efficiency.

• Water Audit Program - Reflecting the latest thinking in the field of water conservation, DRBC requires water purveyors to identify and control water loss in their systems.

• Water Charging Program - DRBC charges certain entities for the amount of water they use to help support water supply storage in the Basin.
Water Supply/Water Resource Planning Publications:
• DRBC Water Resources Program (pdf; June 2023)

• Evaluation of Additional Storage in the Delaware River Basin (April 2023)

• Estimated Groundwater Availability in the Delaware River Basin 2020 - 2060 (pdf; 2022)

• Water Withdrawal and Consumptive Use Estimates for the Delaware River Basin (1990-2017) With Projections Through 2060 (2021)

• DRBC State of the Basin Report (2019)

• DRBC/ACOE: Multijurisdictional Study (2008)

• Water Resources Plan for the Delaware River Basin (Basin Plan; 2004)

• Comprehensive Plan (pdf; 2001)

• Good Faith Agreement (pdf; 1982)

• Level B Study (pdf; 1981)

• Comprehensive Plan (pdf; 1962)

• 1962 Addendum (pdf)
Presentations:
• Water Management in the Delaware River Basin (pdf; September 2022)

• State of the Basin 2019: Watersheds and Water Use (pdf; November 2019)

• DRBC Water Supply Planning and Use Overview (pdf; March 2019)
Stay Up to Date:
• Sign up to receive periodic email notification about DRBC water supply/conservation-related information
Commission Member Links:
Delaware
|
New Jersey
|
Pennsylvania
|
New York
|
United States
Copyright © Delaware River Basin Commission,
P.O. Box 7360, West Trenton, NJ 08628-0360
Phone (609)883-9500; Fax (609)883-9522
Thanks to NJ for hosting the DRBC website
Last Modified: 07/13/2023