Delaware River Basin Commission
---
Delaware • New Jersey • Pennsylvania
---
New York • United States of America
---
Home
>
News Bytes
>
DRBC Staff Teaches Educators with the Bayshore Center at Bivalve about the DRB
DRBC Staff Teaches Educators with the Bayshore Center at Bivalve about the DRB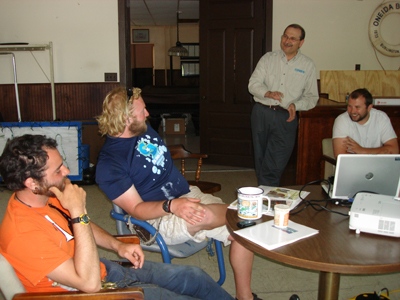 DRBC Communications Manager Clarke Rupert met with Bayshore Center at Bivalve (N.J.) educators in Burlington, N.J. on Thursday, May 2, 2013 to teach them about the Delaware River Basin (DRB). These new educators are part of the 2013 sailing crew of the A.J. Meerwald, N.J.'s official tall ship, which is currently docked in Burlington and operates as a sailing classroom promoting ecological and historical awareness of the Delaware Bay region.
Mr. Rupert went over all aspects of the Delaware River Basin with the educators to help prepare them for the various talks they will be giving throughout the season to passengers. He also discussed the DRBC and how the commission works to protect water resources throughout the watershed.
To learn more about the Bayshore Center at Bivalve and the A.J. Meerwald, please visit the above-linked web site, which includes information on the 2013 sailing season, summer camps, programs (sailing and on-shore), and more.
Commission Member Links:
Delaware
|
New Jersey
|
Pennsylvania
|
New York
|
United States
Copyright © Delaware River Basin Commission,
P.O. Box 7360, West Trenton, NJ 08628-0360
Phone (609)883-9500; Fax (609)883-9522
Thanks to NJ for hosting the DRBC website
Last Modified: 05/02/2013