Delaware River Basin Commission
---
Delaware • New Jersey • Pennsylvania
---
New York • United States of America
---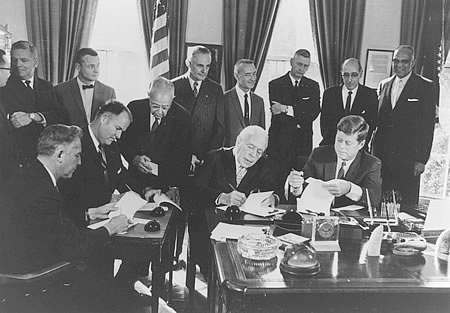 In Memory of W. Brinton (Buzz) Whitall
The Delaware River Basin Commission is saddened to report the passing of our former colleague, W. Brinton (Buzz) Whitall, on May 28, 2013. He was 86 years old.
Mr. Whitall served as the first commission secretary and retired from the DRBC in 1982. His work spanned more than a quarter-century, beginning in 1955 as a planner with the pre-DRBC Delaware River Basin Advisory Committee (DRBAC). He can be seen standing (second from the left, wearing a bow tie) behind Delaware Gov. Elbert Carvel at the ceremonial signing of the Delaware River Basin Compact that took place in the Oval Office at the White House on Nov. 2, 1961.
An article appearing in the DRBC's annual report celebrating its 50th anniversary in 2011 briefly described the work of the DRBAC, which led to the drafting of the compact and the DRBC's creation in 1961. The article (pdf 153 KB) also included personal observations of Barbara Harley, who worked for the DRBAC, and her thoughts on the important role played by Mr. Whitall.
The DRBC commissioners, staff, and retirees offer our condolences to the Whitall Family.
Mr. Whitall's daugher, Ann, shared with us the following obituary.
***
W. Brinton Whitall (Buzz) died May 28, 2013 at Kendal at Hanover in Hanover, New Hampshire. He was 86 years old.
Born into a Quaker family in Philadelphia, Pennsylvania, Buzz attended Germantown Friends School for his entire elementary and high school education, graduating in 1944. Following two years in the Navy, Buzz enrolled at Haverford College and graduated with a degree in political science in 1950. Upon graduation, he volunteered in the international work camp movement, helping with reconstruction work in villages in Greece and Italy. Buzz's exposure to extreme poverty following World War II started a lifelong interest in the relationships between poverty, natural resource management, and the concept of world government.
Buzz returned to Haverford College to earn his master's degree in social and technical assistance. There he met his lifelong love, Jean Wyre. After two years with the Tennessee Valley Authority, he helped plan the Delaware River Basin Commission in 1956, a newly created regional agency designed to manage the water resources of the Delaware River. He worked there until his retirement in 1982.
A resident of Princeton, New Jersey for thirty years, Buzz was active in the Princeton Monthly Meeting (Society of Friends) and the Mercer Street Friends Center (Trenton, New Jersey). He was a draft counselor for conscientious objectors during the Vietnam War. He enjoyed photography, landscape oil painting, swimming, sailing, and participating in men's personal growth groups. Buzz and Jean moved to Hanover, New Hampshire in 1993 and to Kendal at Hanover in 2002.
Buzz is survived by his wife of sixty years, Jean; his daughter, Ann Whitall and husband, John Guimond; his daughter Ruth Whitall, and husband, Tom Hopkins; his four grandchildren, Evan, Ella, Sarah, and Hannah; and his sister, Margaret Whitall Rhoads. Buzz was predeceased by his sister, Barbara Whitall Hill.
A Memorial Meeting in the tradition of Friends will be held at Kendal at Hanover, 80 Lyme Road, Hanover, New Hampshire on June 9, 2013 at 2 p.m.
In lieu of flowers, contributions may be made to the American Friends Service Committee (AFSC.org).
Commission Member Links:
Delaware
|
New Jersey
|
Pennsylvania
|
New York
|
United States
Copyright © Delaware River Basin Commission,
P.O. Box 7360, West Trenton, NJ 08628-0360
Phone (609)883-9500; Fax (609)883-9522
Thanks to NJ for hosting the DRBC website
Last Modified: 07/31/2013