Delaware River Basin Commission
---
Delaware • New Jersey • Pennsylvania
---
New York • United States of America
---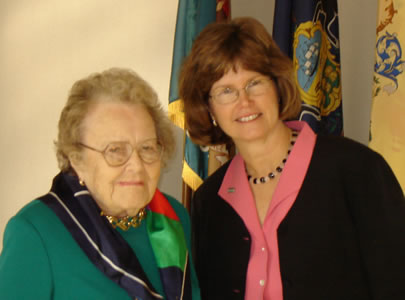 In Memory of Dr. Ruth Patrick (1907-2013)
Dr. Ruth Patrick, the world-renowned environmental scientist and Philadelphia-area resident, died September 23, 2013 at a retirement community in Lafayette Hill, Pa. She was 105 years old.
Dr. Patrick's outstanding career with The Academy of Natural Sciences in Philadelphia (which is now affiliated with Drexel University) spanned nearly 80 years. Her work set the standard for how the environmental health of rivers and streams is evaluated.
Dr. Patrick in the 1940s developed a new scientific method to assess the health of freshwater systems (lakes, streams, and rivers) involving the study of changes in abundance and diversity of plants, animals, and bacteria as a way to measure the impact of pollution and natural changes. She was one of only a handful of female ecologists at the time and her method is still used today.
Born in Kansas, she lived and worked in the Delaware River Basin her entire professional career. Dr. Patrick was associated with The Academy of Natural Sciences since 1933. In 1947, she founded the Academy's Limnology Department, now called the Patrick Center for Environmental Research, for the study of freshwater bodies.
Dr. Patrick was the recipient of numerous honorary degrees and awards, including the National Medal of Science, our nation's top science award, which she received from President Bill Clinton in 1996.
In December 2005, the DRBC named its office building courtyard the "Dr. Ruth Patrick River Garden" in honor of her extensive contributions to riverine science and management. Dr. Patrick, who had just turned 98 years old, attended the event and offered remarks.
The DRBC commissioners and staff offer our heartfelt condolences to Dr. Patrick's Family.
Commission Member Links:
Delaware
|
New Jersey
|
Pennsylvania
|
New York
|
United States
Copyright © Delaware River Basin Commission,
P.O. Box 7360, West Trenton, NJ 08628-0360
Phone (609)883-9500; Fax (609)883-9522
Thanks to NJ for hosting the DRBC website
Last Modified: 09/24/2013