Delaware River Basin Commission
---
Delaware • New Jersey • Pennsylvania
---
New York • United States of America
---
Home
>
News Bytes
>
DRBC Participates in Student Outreach Events & Lambertville Shad Festival
DRBC Participates in Student Outreach Events & Lambertville Shad Festival
HydroMania: May 8, 2014
The Lehigh Valley Water Suppliers, Inc. hosted HydroMania on Thursday, May 8, 2014 on the campus of Cedar Crest College in Allentown, Pa.
HydroMania, in its 14th year, is a one-day event geared for third and fourth graders with a focus on watershed education. This year, over one thousand students ascended on the College's campus to learn all about water and the environment from various exhibitors. DRBC participated, using its Enviroscape model to teach about water pollution.
Lambertville Shad Festival: April 26 & 27, 2014
The 33rd Lambertville Shad Festival took place on Saturday, April 26 and Sunday, April 27, 2014 from 12:30 p.m. to 5:30 p.m. in Lambertville, N.J. This annual festival highlights the region's arts community, the City of Lambertville, the Delaware River, and of course, the American shad!
Learn more about American shad.
The Lewis Fishery, the last commercial shad fishery on the Delaware River, was on hand to demonstrate how to seine (catch with nets) for American shad from Lewis Island, which is accessible from Lambert Lane via a footbridge. Click here to see 2014 Delaware River shad fishing reports from N.J., including updates from the Lewis Fishery.
DRBC had a table set up on Lewis Island on both days of the Shad Festival. Staff collected macroinvertebrates (aquatic bugs) from the Delaware River and discussed their connection to the river's water quality with festival attendees.
We thank Steve Meserve and the Lewis Fishery Crew for allowing us to again display on Lewis Island with them!
View more photos from the 2014 Shad Festival on DRBC's Flickr page.
Temple EarthFest: April 25, 2014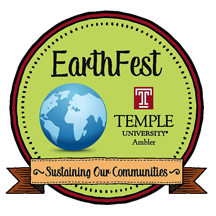 On Friday, April 25, 2014 EarthFest was held on the Ambler Campus of Temple University. Hosted by the Temple University Center for Sustainable Communities, the mission of EarthFest is to promote environmental awareness using sustainable concepts, methods, and practices to protect and preserve our environment.
Geared for students of all ages, this free event featured dozens of exhibitors, including DRBC, which taught about water pollution using its Enviroscape model.
To learn more about EarthFest, please click here.
View more photos from the 2014 Temple EarthFest on DRBC's Flickr page.
Commission Member Links:
Delaware
|
New Jersey
|
Pennsylvania
|
New York
|
United States
Copyright © Delaware River Basin Commission,
P.O. Box 7360, West Trenton, NJ 08628-0360
Phone (609)883-9500; Fax (609)883-9522
Thanks to NJ for hosting the DRBC website
Last Modified: 05/19/2014