Delaware River Basin Commission
---
Delaware • New Jersey • Pennsylvania
---
New York • United States of America
---
Home
>
News Bytes
>
DRBC Recognizes WRADRB President Robert Molzhan on His Retirement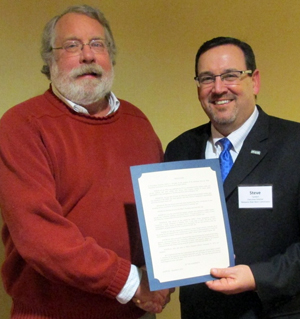 DRBC Recognizes WRADRB President Robert Molzhan on His Retirement
At a recent Board of Directors meeting of the Water Resources Association of the Delaware River Basin (WRADRB), DRBC Executive Director Steve Tambini presented Robert F. Molzhan, WRADRB President, with a ceremonial resolution recognizing him on the occasion of his retirement, which is effective December 31, 2014.
Bob has been an active and valued member of the WRADRB for over the past 36 years, including service on its Board of Directors and its Executive Committee. He has served as its President since June 2001.
Representing WRADRB and the interests of its members, Bob regularly attended DRBC commission and advisory committee meetings. He served as chair of DRBC's ad hoc Water Charges Advisory Committee and also of its Water Management Advisory Committee, which during his chairmanship played an important role in developing the new and innovative water loss accountability program adopted by the commission in 2009.
DRBC commissioners and staff extend their sincere thanks to Bob for his dedication to educating stakeholders and advocating for sound water resource management in the Delaware River Basin and wish him only the best in his retirement.
For more information on the WRADRB, please visit http://www.wradrb.org/.
Commission Member Links:
Delaware
|
New Jersey
|
Pennsylvania
|
New York
|
United States
Copyright © Delaware River Basin Commission,
P.O. Box 7360, West Trenton, NJ 08628-0360
Phone (609)883-9500; Fax (609)883-9522
Thanks to NJ for hosting the DRBC website
Last Modified: 12/22/2014