Delaware River Basin Commission
---
Delaware • New Jersey • Pennsylvania
---
New York • United States of America
---
DRBC Participates in Delaware Coast Day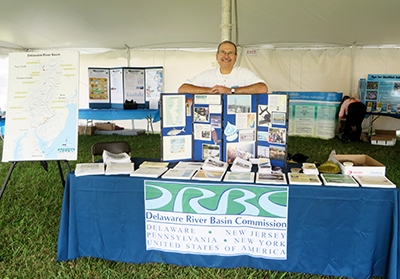 DRBC's Clarke Rupert stands behind his display at
Delaware Coast Day. Photo by DRBC.
Earlier this month, DRBC Communications Manager Clarke Rupert participated in Delaware Coast Day, held on the University of Delaware's Hugh R. Sharp Campus in Lewes, Del. Themed Discoveries...on land, in the air and at sea, this year's Coast Day celebrated the scientists working hard to protect and study Delaware's coastal environments. Coast Day exhibits and activities also highlighted ways that members of the public can be good environmental stewards.
This event, now in its 40th year, experienced a two-year hiatus due to weather and construction related cancelations. DRBC staff enjoyed getting back to Lewes this year to talk to Coast Day attendees about all things Delaware River Estuary. One of the most common questions asked of Mr. Rupert was what exactly is an estuary? Quite simply, an estuary is where fresh and salt water mix, or where the river meets the sea. The Delaware River Estuary includes the tidal Delaware River, which begins at Trenton, N.J./Morrisville, Pa., and the Delaware Bay.
Commission Member Links:
Delaware
|
New Jersey
|
Pennsylvania
|
New York
|
United States
Copyright © Delaware River Basin Commission,
P.O. Box 7360, West Trenton, NJ 08628-0360
Phone (609)883-9500; Fax (609)883-9522
Thanks to NJ for hosting the DRBC website
Last Modified: 10/12/2017