Delaware River Basin Commission
---
Delaware • New Jersey • Pennsylvania
---
New York • United States of America
---
Home
>
News Bytes
>
DRBC's Dr. Ron MacGillivray Presents on Delaware River Water Quality Monitoring
DRBC's Dr. Ron MacGillivray Presents on Delaware River Water Quality Monitoring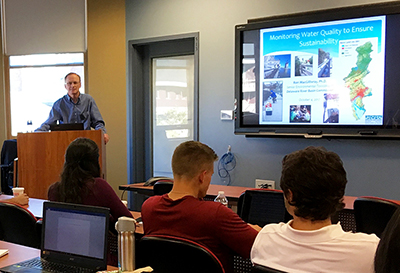 DRBC's Dr. Ron MacGillivray begins his talk on Monitoring
Water Quality to Ensure Sustainability at the Stevens
Institute of Technology. Photo by DRBC.
On October 4, DRBC's Environmental Toxicologist Dr. Ron MacGillivray presented to Stevens Institute of Technology students as part of its Sustainability Seminar Series. The presentation, entitled Monitoring Water Quality to Ensure Sustainability, was also offered as a webinar that was open to all online.
Dr. MacGillivray's talk provided an overview of DRBC's various water quality monitoring programs and why they are important to ensure sustainability in the region. The concept of sustainability means that the needs of the present are met without compromising the needs of future generations. Protecting water quality for present and future generations is integral to DRBC's regulatory approach to attain and sustain healthy waters.
This was Dr. MacGillivray's first time participating in the Sustainability Seminar Series, which is organized by the Stevens Institute of Technology's Sustainability Management Master's Program. Dr. MacGillivray met Dr. Dibs Sarkar, the program's director, through his involvement with the Hudson Delaware Chapter of the Society of Environmental Toxicology and Chemistry.
View video of Dr. MacGillivray's presentation
Download Dr. MacGillivray's presentation (pdf 4 MB)
Commission Member Links:
Delaware
|
New Jersey
|
Pennsylvania
|
New York
|
United States
Copyright © Delaware River Basin Commission,
P.O. Box 7360, West Trenton, NJ 08628-0360
Phone (609)883-9500; Fax (609)883-9522
Thanks to NJ for hosting the DRBC website
Last Modified: 10/12/2017