Delaware River Basin Commission
---
Delaware • New Jersey • Pennsylvania
---
New York • United States of America
---
Home
>
News Bytes
>
DRBC Wins DANJ's Award for N.J. Website of the Year
DRBC Wins DANJ's Award for N.J. Website of the Year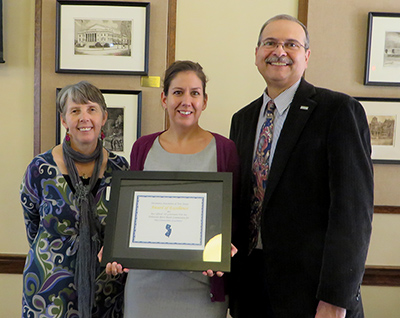 (from L to R) Chair of DANJ N.J. Documents Interest Group
Deborah Mercer poses with DRBC Communications Specialist
Kate Schmidt and DRBC Communications Manager Clarke
Rupert as they accept the DANJ award for N.J. Website of
the Year 2017. Photo courtesy of DRBC.
The Documents Association of New Jersey (DANJ) presented DRBC with its annual award for the New Jersey Website of the Year, honoring websites published by a N.J. state agency, department, or commission. Communications Manager Clarke Rupert and Communications Specialist Kate Schmidt accepted the award on behalf of DRBC at DANJ's Fall Conference, held on October 27, 2017.
Upon accepting the award, DRBC's Clarke Rupert remarked that it was quite fitting to accept this award on October 27, as on this day 56 years ago in 1961, the Delaware River Basin Compact became law, creating the DRBC.
The award highlights government websites that utilize best practices in public information dissemination and that DANJ documents librarians feel is highly informative, understandable, easy to navigate, and benefits N.J. citizens. According to DANJ, the DRBC website received several nominations and was chosen as the winner by a final selection committee. DANJ has been giving this award since 1998.
DRBC would like to thank DANJ for this honor and is pleased to be recognized for its efforts to keep New Jerseyans and all those who utilize the water resources of the Delaware River Basin informed on commission activities and updated on the watershed.
We would also like to thank the State of New Jersey, who hosts our website, and also the N.J. Office of Information Technology, whose staff were integral to the redesign of the commission's website in 2012 and continue to be a great help to our communications staff.
Commission Member Links:
Delaware
|
New Jersey
|
Pennsylvania
|
New York
|
United States
Copyright © Delaware River Basin Commission,
P.O. Box 7360, West Trenton, NJ 08628-0360
Phone (609)883-9500; Fax (609)883-9522
Thanks to NJ for hosting the DRBC website
Last Modified: 10/27/2017