Delaware River Basin Commission
---
Delaware • New Jersey • Pennsylvania
---
New York • United States of America
---
Home
>
News Bytes
>
DRBC Staff Present on Commission Water Quality Monitoring Efforts
DRBC Staff Present on Commission Water Quality Monitoring Efforts
One of the key components of DRBC's water quality management strategy is monitoring, because, quite simply, you can't manage what you don't measure. DRBC staff are active throughout the year monitoring the Delaware River, collecting samples and analyzing data, to ensure that the basin's water resources are being managed and protected and that commission water quality criteria are being met.
When opportunities arise, DRBC staff enjoy sharing this technical expertise with their peers from other agencies and organizations.
DRBC's John Yagecic & Elaine Panuccio Present to the N.J. Water Monitoring Council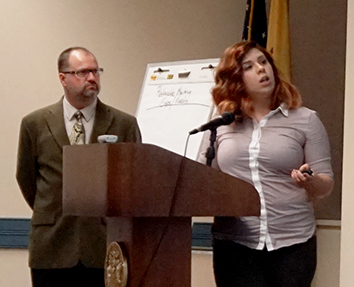 DRBC Water Quality Assessment Manager John
Yagecic, P.E., and Water Resource Scientist Elaine
Panuccio present to the N.J. Water Monitoring
Council about DRBC radiochemistry monitoring
efforts. Photo courtesy of DRBC.
Recently, DRBC staff presented to the New Jersey Water Monitoring Council (NJWMC) on two commission-lead efforts to monitor radiochemistry in surface waters.
(1) Monitoring Radiochemistry in the Upper Delaware Basin: Monitoring for common radiochemistry parameters was part of the DRBC's efforts to establish baseline conditions in the upper Delaware Basin in advance of potential natural gas development. The study took place in 2014 and 2015 and examined 32 mainstem and tributary sites from the Delaware Water Gap to Hancock, N.Y. Findings showed that pre-natural gas radiochemistry activities are all below DRBC standards at all locations and a good baseline record is now established. More information on this study can be found here.
(2) Delaware Estuary Boat Run Radiochemistry Monitoring: This case study began after a tritium leak was detected in snow and ice outside of a building in early 2015 at a local nuclear power plant in the Delaware Estuary. The impacted area was quickly cleaned and contained to prevent future leaks. To monitor this, in 2016, the N.J. Dept. of Environmental Protection asked DRBC to collect, as part of its Delaware Estuary Boat Run Monitoring Program, tritium samples at five sites local to the plant and also to monitor samples collected at all 22 locations for gross alpha and gross beta activities, for which criteria are established in DRBC's water quality regulations. To learn more about the Boat Run, please click here.
View Presentation: Two DRBC Radiochemistry Monitoring Case Studies in the Delaware River Basin (pdf 1.8 MB)
The NJWMC was established in 2003 to support and facilitate the sharing of water quantity and water quality information pertaining to New Jersey water resources. DRBC is a member of the NJWMC, which meets three times a year.
DRBC's John Yagecic Presents to AWRA - Philadelphia Section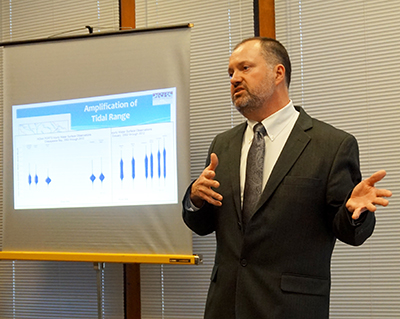 DRBC Water Quality Assessment Manager John Yagecic,
P.E., presents to the AWRA - Philadelphia Section on DRBC
monitoring programs and data collection.
Photo courtesy of DRBC.
DRBC Water Quality Assessment Manager, John Yagecic, P.E., also presented to the American Water Resources Association's (AWRA) Philadelphia Section earlier this month.
Mr. Yagecic's presentation provided an overview of key DRBC monitoring programs and how the resultant data are used to manage water resources and are served out to stakeholders and the public. The presentation also discussed how DRBC uses data collected by its partner organizations, including near real-time assessments, interactive web applications, and automated models.
View Presentation: Using Data to Manage Delaware River Basin Water Resources (pdf 5.7 MB)
The AWRA is a professional association focused on water resource management, education, and research. The Philadelphia Section's primary focus is on water resource management issues of the metropolitan area. The group meets once monthly from September to June.
Commission Member Links:
Delaware
|
New Jersey
|
Pennsylvania
|
New York
|
United States
Copyright © Delaware River Basin Commission,
P.O. Box 7360, West Trenton, NJ 08628-0360
Phone (609)883-9500; Fax (609)883-9522
Thanks to NJ for hosting the DRBC website
Last Modified: 01/30/2018