Delaware River Basin Commission
---
Delaware • New Jersey • Pennsylvania
---
New York • United States of America
---
Home
>
News Bytes
>
DRBC Installs Energy-Saving LED Lights in Its Building
DRBC Installs Energy-Saving LED Lights in Its Building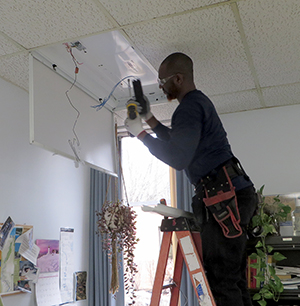 A technician from Tri-State Light and Energy
installs new LED lighting in a DRBC office.
Photo by DRBC.
The Delaware River Basin Commission (DRBC)'s office building recently got a little greener. Thanks to a grant from N.J.'s Clean Energy Program (NJCEP), lighting fixtures throughout the commission's building were retrofitted with environmentally-friendly, energy-saving LEDs.
The commission applied for and received a Direct Install Energy Efficiency Upgrades Grant from NJCEP after completing a Local Government Energy Audit (LGEA) in 2016. The LGEA report identified that DRBC would benefit from retrofitting its lighting fixtures, as well as replacing its boiler.
The lighting retrofit work was performed by Tri-State Light and Energy of Broomall, Pa. The boiler replacement project is planned for later in the spring.
The LGEA Program allows local government agencies, for example, review their facilities' energy use and identify cost-justified energy-efficiency measures, as well as subsidize the full cost of the audit. The NJCEP offers financial incentives, programs, and services to help implement the identified cost-saving, energy-efficient measures. Both programs are sponsored by the N.J. Board of Public Utilities.
Whether it is reducing paper waste, encouraging usage of refillable water bottles, switching to motion-sensored lights, having hybrid vehicles in our fleet, and retrofitting our lighting to LEDs, DRBC staff are always looking for ways to save and conserve energy, increase efficiency, and be more environmentally friendly in our work related activities.
Commission Member Links:
Delaware
|
New Jersey
|
Pennsylvania
|
New York
|
United States
Copyright © Delaware River Basin Commission,
P.O. Box 7360, West Trenton, NJ 08628-0360
Phone (609)883-9500; Fax (609)883-9522
Thanks to NJ for hosting the DRBC website
Last Modified: 02/21/2018