Delaware River Basin Commission
---
Delaware • New Jersey • Pennsylvania
---
New York • United States of America
---
Home
>
News Bytes
>
DRBC Staff Presents at Southeast PA Regional Watershed Workshop
DRBC Staff Presents at Southeast PA Regional Watershed Workshop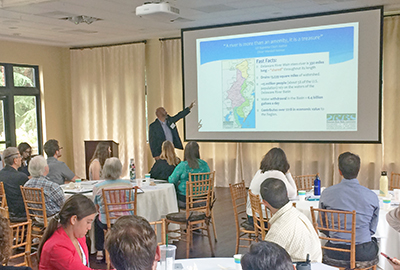 DRBC's Ken Najjar, Ph.D., P.E., presents commission water
quality management programs at PEC's Southeast PA
Regional Watershed Workshop. Photo courtesy of the
Pennsylvania Environmental Council (PEC).
One of the key components of DRBC's water quality management strategy is monitoring, because, quite simply, you can't manage what you don't measure. DRBC staff are active throughout the year monitoring the shared water resources of the Delaware River to ensure that the basin's water resources are being managed and protected and that commission water quality criteria are being met.
When opportunities arise, DRBC staff enjoy sharing this technical expertise with their peers from other agencies and organizations, as well as the general public.
DRBC Director of Water Resource Management Ken Najjar, Ph.D., P.E., recently participated in the Southeast Pennsylvania Regional Watershed Workshop hosted by the Pennsylvania Environmental Council (PEC). This was one in a series of regional workshops convened by PEC to identify needs and discuss available resources and tools with Pennsylvania's local watershed associations.
Dr. Najjar presented several key DRBC water quality management strategies that work to protect and improve the quality of the Delaware River. View Presentation: Managing the Water Quality of a Shared Resource, the Delaware River (pdf 4.5 MB)
PEC works to protect and restore Pennsylvania's environment through advocacy, education, and on-the-ground projects. Learn more about the organization at http://pecpa.org/.
Commission Member Links:
Delaware
|
New Jersey
|
Pennsylvania
|
New York
|
United States
Copyright © Delaware River Basin Commission,
P.O. Box 7360, West Trenton, NJ 08628-0360
Phone (609)883-9500; Fax (609)883-9522
Thanks to NJ for hosting the DRBC website
Last Modified: 07/05/2018