Delaware River Basin Commission
---
Delaware • New Jersey • Pennsylvania
---
New York • United States of America
---
Home
>
News Bytes
>
DRBC Participates in Announcement of Grant Funding for the Schuylkill River
DRBC Participates in Announcement of Grant Funding for the Schuylkill River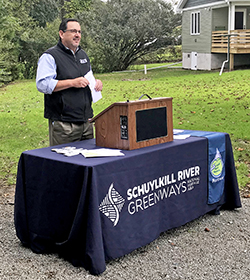 DRBC Executive Director Steve Tambini
gives remarks at the 2018 SRRF grant
announcement. Photo by DRBC.
The Schuylkill River Watershed is getting a little cleaner, thanks to the recent round of grant funding from the Schuylkill River Restoration Fund (SRRF). DRBC Executive Director Steve Tambini and Water Resource Planning Manager Chad Pindar participated in the announcement ceremony, held earlier this month at the Sunny Acre Farm in Berks County, Pa., a 2017 SRRF grant recipient.
This year, nearly $379,000 in grant funds were distributed to various water quality improvement projects throughout the Schuylkill River Watershed. Award ceremony speakers included Mr. Tambini, along with Schuylkill River Greenways Executive Director Elaine Schaefer, Philadelphia Water Department's Kelly Anderson, and Exelon Generation Limerick Generating Station's Bob Dickenson. Mr. Tambini focused his remarks how the SRRF helps support local conservation projects, which benefit all who rely on the Schuylkill River and its tributaries. He thanked everyone who has worked on/completed improvement projects through the SRRF and stated that DRBC is proud to be a long-standing partner in this very worthwhile effort.
The $378,671 distributed from the SRRF in 2018 will directly support nine projects and three land transaction grants, all of which will improve water quality in the Schuylkill River and its tributaries, a source of drinking water for 1.5 million people. The funded projects will mitigate stormwater runoff and agricultural pollution, as well as restore streambanks, riparian areas, and floodplains. The land transaction grants will assist with costs associated with permanent protection of priority watershed parcels.
Contributors to the SRRF in 2018 included Exelon Generation's Limerick Generating Station, the Philadelphia Water Department, Aqua PA, and MOM's Organic Market. Administered by the Schuylkill River Greenways National Heritage Area (SRG), the SRRF was initiated 13 years ago with funds from Exelon Corporation, which has participated every year. To date, the SRRF has awarded over $3.6 million to 106 projects that help reduce pollution entering the Schuylkill River and its tributaries.
The SRRF is a great example of how partnering works to accomplish great things, bringing together government agencies, private industries, non-profit organizations, local businesses, and local community members to achieve positive environmental results for the Schuylkill River Watershed.
The SRRF was created under a DRBC docket and Exelon Generation LLC's desire to assist the restoration of the Schuylkill River Watershed, by providing large grants for on-the-ground improvements. DRBC approves the projects that are selected for funding using the Exelon funds and is one of several entities that sits on an advisory committee that chooses which projects get funded annually.
For additional information on the creation of the SRRF, how it's managed, and its contributors, please click on the link in the "More Information" box.
To learn more about SRG and their administration of the SRRF, please click on the SRG link in the "More Information" box.
Commission Member Links:
Delaware
|
New Jersey
|
Pennsylvania
|
New York
|
United States
Copyright © Delaware River Basin Commission,
P.O. Box 7360, West Trenton, NJ 08628-0360
Phone (609)883-9500; Fax (609)883-9522
Thanks to NJ for hosting the DRBC website
Last Modified: 10/22/2018