Delaware River Basin Commission
---
Delaware • New Jersey • Pennsylvania
---
New York • United States of America
---
Home
>
News Bytes
>
DRBC Cares for Its Communities: Staff Clean Up Palmyra Cove
DRBC Cares for Its Communities: Staff Clean Up Palmyra Cove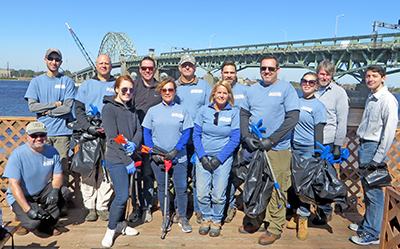 The group of volunteers poses for a photo, with the Tacony-
Palmyra Bridge in the background. Photo by DRBC.
While the main efforts of DRBC staff are focused on managing and protecting the shared interstate waters of the Delaware River Basin, they also care about helping out in our local communities. Last week, DRBC staff volunteered their time to clean up a portion of the Delaware River shoreline in Palmyra Cove Nature Park, a 250-acre park located at base of the Tacony-Palmyra Bridge (on the N.J. side).
In addition to its tidal river shoreline, Palmyra Cove Nature Park features a freshwater tidal cove, wetlands, woodlands, and meadows and is popular for hiking, fishing, and wildlife watching. It also hosts a new Environmental STEM Center, which offers several interactive exhibits for the public to learn about science and technology, from climate change to space exploration.
This is the second time that commission staff have volunteered at Palmyra Cove. This year they were joined by David Smith, legislative aide for Sen. Troy Singleton, and Gina Sullivan and Mitchell Zupko, legislative aides for Asm. Herb Conaway, Jr., both of whom represent N.J. Legislative District 7, which is home to Palmyra Cove.
Because the park is urban, located just north of Philadelphia and Camden, copious amounts of trash float in with the tide. As such, there was no lack of "bounty," and the DRBC volunteers collected about 30 bags of trash and recyclables (glass and plastic bottles and cans). Besides being an eyesore, removing trash from in and around waterways is important, as it helps improve water quality and habitat.
Participating DRBC and District 7 legislative staff fully embraced the experience, not minding one bit getting their hands and feet dirty to help improve the Delaware River.
Most importantly, this effort was a stark reminder of the importance of disposing of all trash and recycling properly so we can keep our rivers, streams, and shorelines clean.
Commission Member Links:
Delaware
|
New Jersey
|
Pennsylvania
|
New York
|
United States
Copyright © Delaware River Basin Commission,
P.O. Box 7360, West Trenton, NJ 08628-0360
Phone (609)883-9500; Fax (609)883-9522
Thanks to NJ for hosting the DRBC website
Last Modified: 10/25/2018