Delaware River Basin Commission
---
Delaware • New Jersey • Pennsylvania
---
New York • United States of America
---
Home
>
News Bytes
>
DRBC Staff Talk DRB Water Resource Management at 2018 GANJ Conference
DRBC Staff Talk DRB Water Resource Management at 2018 GANJ Conference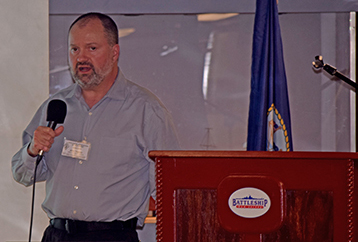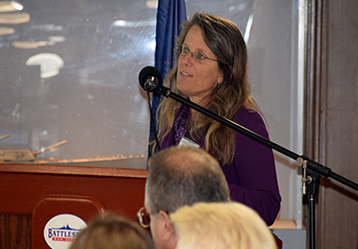 DRBC's John Yagecic, P.E., and Amy Shallcross, P.E.,
present at the 2018 Geologic Association of N.J.
Conference. Photos by DRBC.
The Geologic Association of New Jersey held their annual conference on October 19, 2018. The conference theme was Water, Hydrogeology, and Water Supply in New Jersey, with an focus on the Delaware Valley. It was fittingly held aboard the Battleship New Jersey on the Delaware River in Camden.
DRBC's Manager of Water Quality Assessment John Yagecic, P.E. gave an update on water quality improvements in the Delaware River Basin. He described how commission water quality programs have played a role in these improvements, namely supporting increased dissolved oxygen levels in the basin, reductions in point source PCBs in the estuary, lowering levels of nutrients in the non-tidal lower Delaware, and monitoring contaminants of emerging concern. He also provided information on the commission's Special Protection Waters Program, which protects high quality waters in the basin.
View presentation: Water Quality Improvements in the Delaware River Basin (pdf 2.9 MB)
DRBC's Manager of Water Resource Operations Amy Shallcross, P.E., presented on the commission's flow management programs and the possible challenges posed by a changing climate in the Delaware River Basin.
Staff work hard to fulfill the DRBC's mandate of managing and protecting the basin's water resources. Being able to participate in conferences and educate others about DRBC and what we do are also important parts of that mission.
Commission Member Links:
Delaware
|
New Jersey
|
Pennsylvania
|
New York
|
United States
Copyright © Delaware River Basin Commission,
P.O. Box 7360, West Trenton, NJ 08628-0360
Phone (609)883-9500; Fax (609)883-9522
Thanks to NJ for hosting the DRBC website
Last Modified: 12/11/2018