Delaware River Basin Commission
---
Delaware • New Jersey • Pennsylvania
---
New York • United States of America
---
Home
>
News Bytes
>
DRBC Staff Takes Doane Academy Students on a Delaware River Tour
DRBC Staff Takes Doane Academy Students on a Delaware River Tour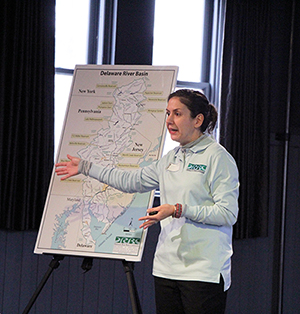 DRBC's Kate Schmidt presents to Doane
Academy Lower School students about
the Delaware River.
Photo courtesy of the Doane Academy.
Outreach and education is an important strategic goal of DRBC. Connecting with students (and people of all ages) helps share information about the commission and the Delaware River, as well as encourages stewardship of our shared water resources.
Last month, DRBC Communications Specialist Kate Schmidt visited the Doane Academy in Burlington, N.J. to talk to the lower school students (grades 1-5) about the Delaware River. They are working on projects for their upcoming STEAM Fair about various river topics (boats, bridges, fish, human impacts, etc.), and their teachers wanted us to give them a tour of the river, from the mountains to the sea.
View presentation: A Tour of the Delaware River from the Mountains to the Sea (pdf 10 MB)
The students were an engaged audience and asked many good questions. DRBC staff enjoy these experiences and plan to head back to Doane and check out the students' projects at their STEAM Fair this month.
Commission Member Links:
Delaware
|
New Jersey
|
Pennsylvania
|
New York
|
United States
Copyright © Delaware River Basin Commission,
P.O. Box 7360, West Trenton, NJ 08628-0360
Phone (609)883-9500; Fax (609)883-9522
Thanks to NJ for hosting the DRBC website
Last Modified: 02/06/2019