Delaware River Basin Commission
---
Delaware • New Jersey • Pennsylvania
---
New York • United States of America
---
Home
>
News Bytes
>
DRBC Staff Lead Water Quality Management Session at the 2019 PDE Science Summit
DRBC Staff Lead Water Quality Management Session at the 2019 PDE Science Summit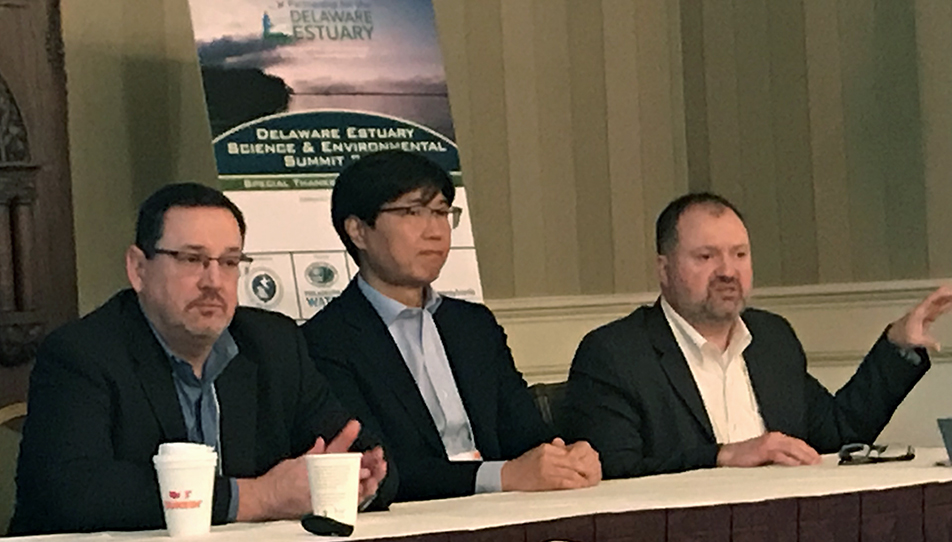 (From L to R) DRBC's Steve Tambini, Namsoo Suk, and John
Yagecic take questions after their session on DRBC Water Quality
Management. Photo by DRBC.
The Partnership for the Delaware Estuary (PDE) recently held its 8th biennial Delaware Estuary Science and Environmental Summit in Cape May, N.J. Over 200 scientists, environmental professionals, educators, and students attended this three-day summit that focused specifically on the Delaware Estuary, the tidal river and bay. Its theme this year was Estuary 2029: Saving Our System through Collaboration.
DRBC staff have participated in many of PDE's past Summits, sharing their expertise and knowledge about the basin's water resources, and this year was no different. Over the three days, DRBC staff moderated four panels and gave three presentations as the leaders of Day 2's DRBC Water Quality Management Session.
DRBC Water Quality Management Presentations:
1. Water Quality Management Part 1: The Need and Role for Clean Water Regulation - Steve Tambini, P.E., DRBC Exec. Director (pdf 1.7 MB)
2. Implementation of Water Quality Management Part 2: Applications, Successes, and Challenges - John Yagecic, P.E., DRBC Manager of Water Quality Assessment (pdf 2.2 MB)
3. Water Quality Management Part 3: Water Quality Challenges - Namsoo Suk, Ph.D., DRBC Director of Science and Water Quality Management (pdf 2 MB)
In addition, several other staff participated as attendees and enjoyed learning about and discussing the latest trends and scientific information pertinent to effective, collaborative management of the Delaware River Basin's water resources.
PDE has archived information from past Summits at http://www.delawareestuary.org/delaware-estuary-science-and-environmental-summit/.
Commission Member Links:
Delaware
|
New Jersey
|
Pennsylvania
|
New York
|
United States
Copyright © Delaware River Basin Commission,
P.O. Box 7360, West Trenton, NJ 08628-0360
Phone (609)883-9500; Fax (609)883-9522
Thanks to NJ for hosting the DRBC website
Last Modified: 02/11/2019