Delaware River Basin Commission
---
Delaware • New Jersey • Pennsylvania
---
New York • United States of America
---
Home
>
News Bytes
>
DRBC Staff Talks Water Conservation & Quality with a Local EAC Group
DRBC Staff Talks Water Conservation & Quality with a Local EAC Group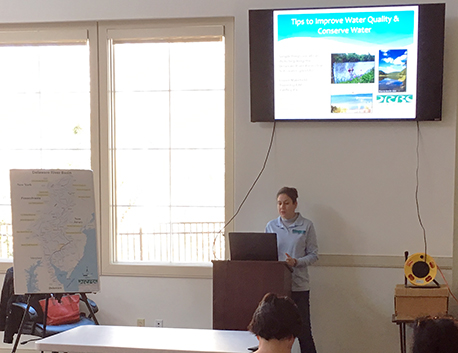 DRBC's Kate Schmidt gives tips to local residents on how to
conserve water and improve water quality in and around
your home. Photo by DRBC.
DRBC's Kate Schmidt recently presented to the Lower Makefield Township's (Yardley, Pa.) Environmental Advisory Council (EAC), providing tips on water conservation and improving water quality in and around the home. The meeting was open to the public and also included presentations from Bucks County Conservation District Watershed Specialist Meghan Rogalus and Remington and Vernick Engineer Elizabeth Colletti, who serves as the township's engineer.
Schmidt's presentation provided a brief overview of the Delaware River Basin and DRBC. She discussed how clean water and a sustainable water supply both are needed to support healthy watersheds and how we all have a role to play in this interconnected system.
Some water conservation tips she shared included checking for leaks, turning off the faucet when not in use, take shorter showers, consider investing in more efficient appliances when it is time to replace, and always run full loads in your dishwasher and washing machine.
Tips to help improve water quality included never flush your medications down the toilet, use less salt on your driveways and sidewalks during winter, pick up after your pet, and nothing but rain down the storm drain. She also discussed several best practices when gardening and maintaining your lawn that help reduce water usage and reduce non-point source pollution runoff to our rivers and streams.
Schmidt concluded by reminding folks that it doesn't have to stop at the home. Reduce your use of plastics when out and about and consider volunteering for a cleanup.
Outreach and education is an important strategic goal of DRBC. Connecting with the public helps share information about the commission and the Delaware River, as well as encourages stewardship of our shared water resources.
View presentation: Tips to Improve Water Quality and Conserve Water (pdf 2.5 MB)
Commission Member Links:
Delaware
|
New Jersey
|
Pennsylvania
|
New York
|
United States
Copyright © Delaware River Basin Commission,
P.O. Box 7360, West Trenton, NJ 08628-0360
Phone (609)883-9500; Fax (609)883-9522
Thanks to NJ for hosting the DRBC website
Last Modified: 03/01/2019