Delaware River Basin Commission
---
Delaware • New Jersey • Pennsylvania
---
New York • United States of America
---
Home
>
News Bytes
>
DRBC Executive Director Provides Remarks at PDE Press Conference
DRBC Executive Director Provides Remarks at PDE Press Conference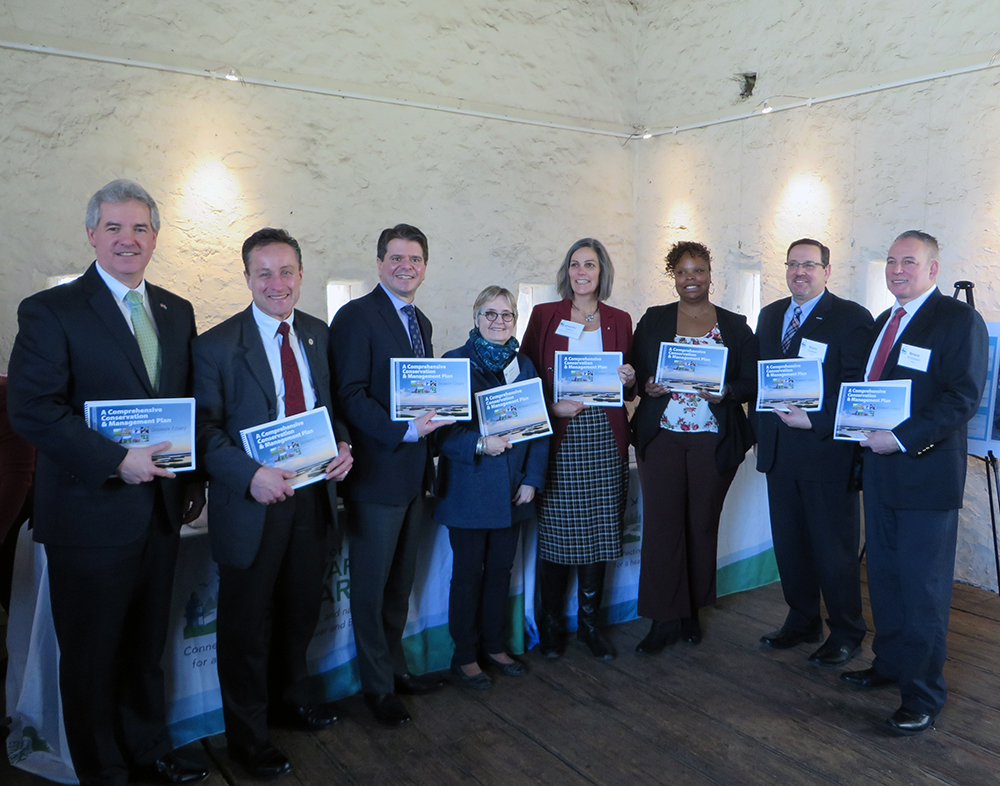 The speakers at the press conference pose with their copies of the revised
CCMP. From L to R: DNREC Secretary Shawn Garvin, EPA Region 2
Administrator Peter Lopez, EPA Region 3 Administrator Cosmo Servidio,
PWD Commissioner Debra McCarty, PDE Executive Director Jennifer Adkins,
PADEP Acting Secretary for Water Programs Aneca Atkinson, DRBC
Executive Director Steve Tambini and NJDEP Director of Water Monitoring
Standards Bruce Friedman. Photo by DRBC.
Last week, the Partnership for the Delaware Estuary (PDE) held a press conference officially kicking off the implementation of the revised Comprehensive Conservation and Management Plan for the Delaware Estuary (CCMP). The plan includes a revised set of goals and strategies organized into the following subsets: Clean Waters, Strong Communities, and Healthy Habitats. The revised CCMP also includes a financial strategy and monitoring approach to help achieve the plan's main goal of improving the health of the Delaware Estuary for the millions of people who live, work, and play within the watershed.
The revision of the CCMP was a three-year, collaborative effort and would not have been possible without the efforts of the members of PDE's Steering Committee, the Estuary Implementation Committee, PDE's Science and Technical Advisory Committee, and hundreds of local partners, experts and stakeholders.
Representatives of the steering committee, which include DRBC, U.S. EPA Regions 2 and 3, Del. Department of Natural Resources and Environmental Control (DNREC), N.J. Department of Environmental Protection (NJDEP), Pa. Department of Environmental Protection (PADEP) and the Philadelphia Water Department (PWD), were present and provided remarks celebrating the completion of the revised CCMP and their commitment to working together towards a cleaner, more resilient, and healthier estuary.
As part of the implementation of the CCMP, a freshwater mussel hatchery at Philadelphia's Bartram's Garden is planned to be built. Speakers and attendees were invited to stay after the press conference's conclusion to learn more about this unique project, called the Mussels for Clean Water Initiative, which is part of the larger Freshwater Mussel Recovery Program. The goal of this program is to restore native freshwater mussel species to the Delaware, Schuylkill and Susquehanna river systems to promote cleaner water and healthier aquatic ecosystems. The hatchery, funded by PENNVEST, will eventually produce up to a half million baby mussels, which will be reared to hardier sizes at satellite partner facilities and ponds, then relocated from these nursery sites to restoration sites in rivers, streams and lakes. One adult mussel can filter more than 10 gallons of water a day, improving water quality, reducing erosion and providing better habitat for other aquatic plants and animals.
Click play below to view DRBC Executive Director Steve Tambini's remarks at the press conference:
View DRBC Executive Director Steve Tambini's full remarks (pdf 186 KB)
View PDE News Release: Partnership for the Delaware Estuary Launches Ten-year Comprehensive Conservation & Management Plan (pdf 946 KB)
Learn more about the Comprehensive Conservation and Management Plan
News Coverage:
Commission Member Links:
Delaware
|
New Jersey
|
Pennsylvania
|
New York
|
United States
Copyright © Delaware River Basin Commission,
P.O. Box 7360, West Trenton, NJ 08628-0360
Phone (609)883-9500; Fax (609)883-9522
Thanks to NJ for hosting the DRBC website
Last Modified: 02/28/2019