Delaware River Basin Commission
---
Delaware • New Jersey • Pennsylvania
---
New York • United States of America
---
Home
>
News Bytes
>
DRBC Staff Share Their Expertise with Delegation Visiting from Korea
DRBC Staff Share Their Expertise with Delegation Visiting from Korea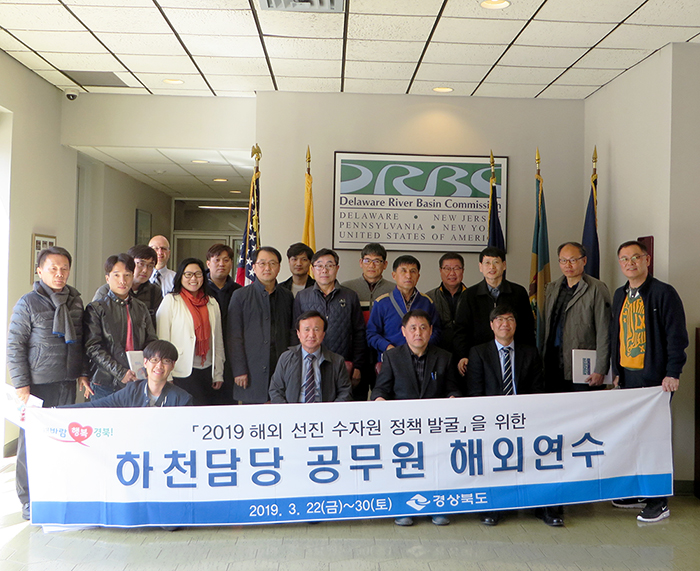 The delegation poses with the DRBC presenters. Their
banner reads "2019 Search for the Foreign, Advanced Water
Resources Management Policies. River Resource Management
Official's Overseas Study 2019.3.22 (Fri) – 30 (Sat)
Gyeongsangbuk-do Province." Photo by DRBC.

DRBC recently hosted a 17-member delegation from South Korea's Gyeongsangbuk-do Province at the commission's West Trenton headquarters. The visitors were from the province's River and Flood Maintenance Department and were interested in gaining perspective on the commission's programs related to water use, water conservation, and water quality.
DRBC's Executive Director Steve Tambini, P.E. provided opening remarks. To further welcome the delegation to the U.S. and specifically to New Jersey, we invited Sean Gregory from U.S. Representative Andy Kim's (NJ-3) office to provide remarks on behalf of the Congressman. Mr. Gregory thanked the delegation for visiting DRBC to learn about what the commission does to protect water resources, as well as for their efforts at home; by working together and learning from each other, we all can help make the environment safer for current and future generations. He also presented the delegation with an American flag that was flown over the U.S. Capitol.
DRBC's Director of Science and Water Quality Management Dr. Namsoo Suk provided translation services and led the presentations with an overview of DRBC, its history, and major programs - DRBC 101 (pdf 2.1 MB).
DRBC Water Resource Engineer Dr. Seung Ah Byun, P.E., followed Dr. Suk's presentation with an overview of DRBC's water use planning authorities and objectives, which focus on ensuring there is ample flow and supply to meet current and future demand, as well as during extreme conditions (for example, droughts) - DRBC Water Supply Planning and Use Overview (pdf 2.4 MB).

The delegation was engaged and interested throughout the presentations and asked many good questions. So much so, that unfortunately, we ran out of time for Dr. Suk's presentation on the commission's water quality programs!
DRBC Water Quality Management Programs (pdf 4.6 MB)
Outreach and education is an important strategic goal of DRBC. Hosting delegations from foreign countries, as well as from outside the basin, helps share information about the unique role of the commission and how it manages the shared water resources of the Delaware River Basin without regard for political boundaries.
Commission Member Links:
Delaware
|
New Jersey
|
Pennsylvania
|
New York
|
United States
Copyright © Delaware River Basin Commission,
P.O. Box 7360, West Trenton, NJ 08628-0360
Phone (609)883-9500; Fax (609)883-9522
Thanks to NJ for hosting the DRBC website
Last Modified: 04/05/2019