Delaware River Basin Commission
---
Delaware • New Jersey • Pennsylvania
---
New York • United States of America
---
Home
>
News Bytes
>
Executive Director Gives DRBC 101 to Legislative Staff
Executive Director Gives DRBC 101 to Legislative Staff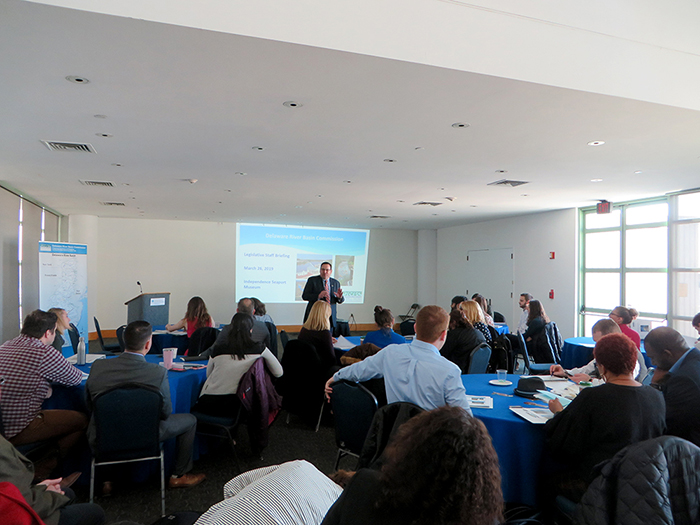 DRBC Executive Director Steve Tambini welcomes everyone
to the briefing and thanks them for taking time out of their
day to learn about the DRBC. Photo by DRBC.
Recently, the DRBC held a briefing for regional federal and state legislative staff at the Independence Seaport Museum in Philadelphia, Pa. In addition to learning about the DRBC history, programs, and role in the Delaware River Basin, attendees also were treated to a tour of the museum's new River Alive! exhibit by President and CEO John Brady.
River Alive! is an interactive exhibit that explores the Delaware River Basin, from the headwaters to the sea. Activities are geared for kids, but also appeal to adults, from the River Continuum Wall to the Fisharium laboratory. This exhibit makes clear that the museum is more than ships (although they are cool, too!); it's a resource right on the banks of the Delaware River where you can learn about the watershed and about how you too can play a role in its protection.
After the tour, DRBC Executive Director Steve Tambini gave a presentation that provided an overview of the commission and its major programs, from flow management to water quality protection. He also discussed some of the emerging issues we are studying, for example, climate change impacts in the basin, microplastics, and toxic contaminants.
View Presentation (pdf 5.6 MB)
At the end of the morning, attendees left with a better understanding of the commission's role in managing, protecting, and improving the water resources of the Delaware River Basin and a new appreciation for the river's importance to the region, which provides 13.3 million people with water for drinking, agriculture, and industrial needs.
Special thanks go to the Independence Seaport Museum for hosting us and event sponsor Pennoni.
Commission Member Links:
Delaware
|
New Jersey
|
Pennsylvania
|
New York
|
United States
Copyright © Delaware River Basin Commission,
P.O. Box 7360, West Trenton, NJ 08628-0360
Phone (609)883-9500; Fax (609)883-9522
Thanks to NJ for hosting the DRBC website
Last Modified: 04/04/2019