Delaware River Basin Commission
---
Delaware • New Jersey • Pennsylvania
---
New York • United States of America
---
Home
>
News Bytes
>
DRBC Cares for Its Communities: Staff Volunteer for a Steamboat SPLASH Painting Day
DRBC Cares for Its Communities: Staff Volunteer for a Steamboat SPLASH Painting Day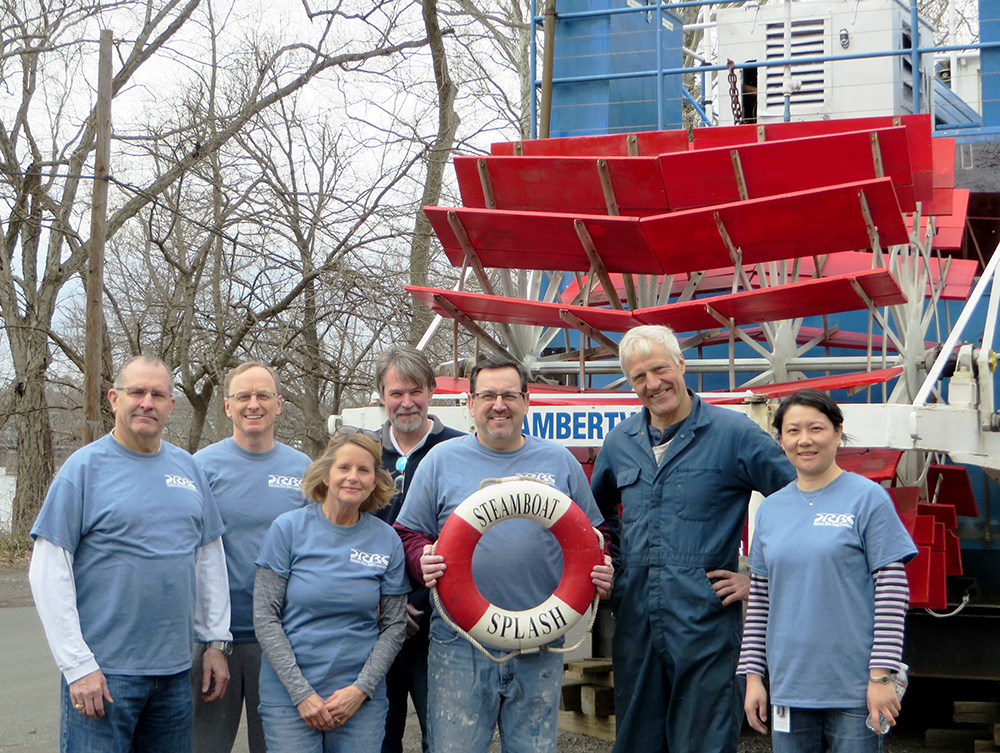 The DRBC volunteers are all smiles after a job well done. Here,
they pose with Eric Clark, SPLASH Trustee and Crew Mate
(2nd from right). Photo by DRBC.
While the main efforts of DRBC staff are focused on managing and protecting the shared interstate waters of the Delaware River Basin, they also care about helping out in our local communities. DRBC staff recently volunteered to help spruce up the Steamboat SPLASH before its season of educational sails begins.
Six DRBC staff helped paint various parts of the boat, including its upper deck railings and outside panels. The boat is still trailered for winter, making it easier to reach all outside parts, including its draft.
Docked in Lambertville, N.J., the SPLASH Steamboat Floating Classroom is a non-profit organization whose mission is to provide environmental and historical education while sailing aboard a working steamboat. SPLASH stands for Student Participation in Learning Aquatic Science and History, and each trip offers students and adults alike a unique, hands-on learning experience while sailing on the wild and scenic Delaware River.
DRBC staff strongly support the Steamboat SPLASH's mission and were pleased to be able to lend a helping hand to prepare the boat for its 2019 season.
Commission Member Links:
Delaware
|
New Jersey
|
Pennsylvania
|
New York
|
United States
Copyright © Delaware River Basin Commission,
P.O. Box 7360, West Trenton, NJ 08628-0360
Phone (609)883-9500; Fax (609)883-9522
Thanks to NJ for hosting the DRBC website
Last Modified: 04/05/2019