Delaware River Basin Commission
---
Delaware • New Jersey • Pennsylvania
---
New York • United States of America
---
Home
>
News Bytes
>
DRBC's Interactive Clean Water Lesson Popular at HydroMania
DRBC's Interactive Clean Water Lesson Popular at HydroMania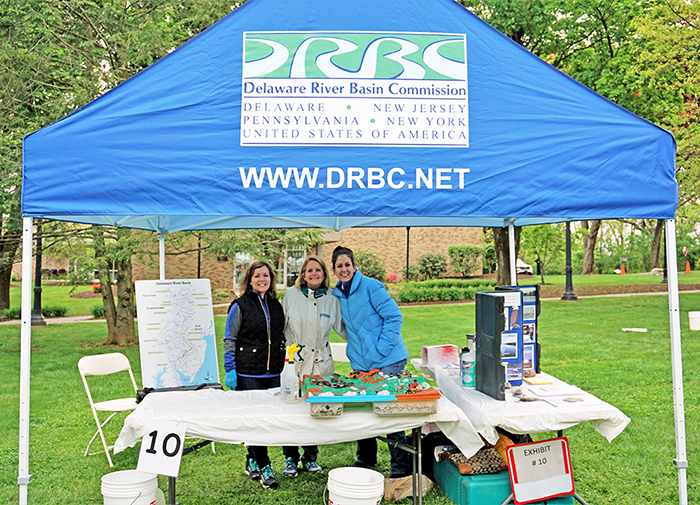 (From L to R) DRBC's Denise McHugh, Donna Woolf, and
Kate Schmidt are ready for the students to arrive at
HydroMania 2019. Photo courtesy of Trissina Trusdell,
Lehigh Valley Water Suppliers.
Earlier this month, DRBC participated in the 19th annual HydroMania, a fun-filled water festival attended by roughly 800 3rd and 4th grade elementary school students, teachers, and chaperones at Cedar Crest College in Allentown, Pa.
Over the years, DRBC has been a regular HydroMania exhibitor and was proud to be a part of the fun again this year. Students get to participate in a variety of interactive exhibits and learning stations, each of which answered a different water-themed question.
DRBC staff helped the students answer the questions, "Do we live in a watershed?" and "How can we help keep our watershed clean?" using a map of the Delaware River Basin and the commission's Enviroscape watershed model. This model teaches the students about different sources of non-point source pollution found in runoff especially after heavy rains and what we can do to help keep our waterways clean. The model is always a hit with kids, especially younger children, as it demonstrates in a visually engaging way the connection between land and water.
HydroMania is organized by the Lehigh Valley Water Suppliers. This educational event aims to generate curiosity, excitement, and understanding about current water issues, resulting in a lifetime of watershed-friendly water-use habits.
Commission Member Links:
Delaware
|
New Jersey
|
Pennsylvania
|
New York
|
United States
Copyright © Delaware River Basin Commission,
P.O. Box 7360, West Trenton, NJ 08628-0360
Phone (609)883-9500; Fax (609)883-9522
Thanks to NJ for hosting the DRBC website
Last Modified: 06/06/2019