Delaware River Basin Commission
---
Delaware • New Jersey • Pennsylvania
---
New York • United States of America
---
Home
>
News Bytes
>
DRBC Helps Kids Get Hooked on Fishing at Trenton Youth Fishing Derby
DRBC Helps Kids Get Hooked on Fishing at Trenton Youth Fishing Derby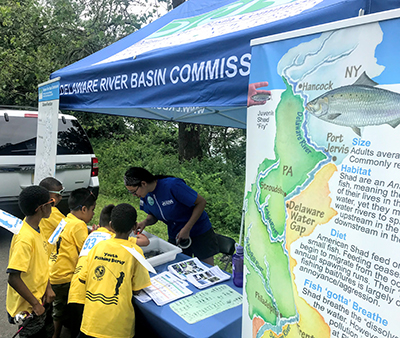 DRBC Water Quality Intern Daisy DePaz shows a group of
derby participants what types of aquatic bugs live in the
Delaware River. Photo by DRBC.
Hooked on Fishing, Not on Drugs was the theme of the Trenton Youth Fishing Derby, held earlier this month at Stacy Park along the banks of the Delaware River.
DRBC was proud to again participate in this great event that gives Trenton's youth an opportunity to experience fishing and learn about clean water, something that fish - and us - need to survive.
DRBC's education station focused on water quality. Staff collected macroinvertebrates (aquatic bugs) from the Delaware River and displayed them in trays of water, educating observers on what the bugs can tell us about their local water's health. The sample collected at the derby contained many scuds (fresh water shrimp), two mayflies, one stonefly, two caddisflies, some right-handed snails, as well as some different species of aquatic worms. The scuds represent a moderately tolerant group of organisms that can live in a variety of relatively good water. The mayfly, stonefly, caddisfly, and right-handed snail are all organisms that require good quality water to survive, so their presence in the river is a good indicator of the kind of river conditions we aim to see!
Partnering together, the New Jersey Department of Environmental Protection and the City of Trenton Department of Recreation, Culture, and Natural Resources holds this annual event for local youth in grades 2-8. Free to participants and their families, the derby features multiple education stations and a 1-hour period where the children fish for multiple prizes, such as first fish caught, most fish caught in the one hour, largest and smallest fish, and "strangest" fish. The event was catch and release; all equipment was provided for the students, and volunteers were on hand to help the kids learn how to fish and identify different species.
This year, the event saw an astounding 96 kids register and continues to see an increase in popularity! The DRBC will be sure to keep its presence as an exhibitor at the derby in future years, helping kids understand the importance of clean water and the aquatic life that depends on it.
Commission Member Links:
Delaware
|
New Jersey
|
Pennsylvania
|
New York
|
United States
Copyright © Delaware River Basin Commission,
P.O. Box 7360, West Trenton, NJ 08628-0360
Phone (609)883-9500; Fax (609)883-9522
Thanks to NJ for hosting the DRBC website
Last Modified: 06/14/2019