Delaware River Basin Commission
---
Delaware • New Jersey • Pennsylvania
---
New York • United States of America
---
Home
>
News Bytes
>
DRBC and the Iron Pigs Team Up, Teach Baseball's Muddy Connection to the Delaware River
DRBC and the Iron Pigs Team Up, Teach Baseball's Muddy Connection to the Delaware River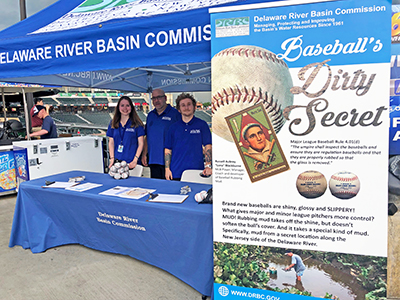 (From L to R) DRBC's Meg Ruggles, Tom Amidon, and
Alex Servis are ready to mud at a recent Iron Pigs
home game. Photo by DRBC.
DRBC staff teamed up with the Lehigh Valley Iron Pigs to demonstrate how to properly mud baseballs with Lena Blackburne Rubbing Mud at one of their home games, on June 28. This event showcased a resource that is essential to the sport and only found in the Delaware River Basin, highlighting how America's favorite pastime is uniquely connected to our region.
All baseballs used in major and minor league play must be "mudded" prior to use to help give pitchers a better grip; in fact, baseball rubbing mud is the only legal substance that can be added to balls. And, it can only be found in one place; while the exact location is a well-kept secret, we know it is a New Jersey tidal tributary to the Delaware River!
Prior to the game, Cole Irvin, an Iron Pigs pitcher who also had his major league debut with the Philadelphia Phillies earlier this season, stopped by the DRBC table to show kids how to mud their balls like the pros. It was Little League Night, and youth players in attendance were encouraged to bring their own balls to practice first-hand. The kids were hyper-focused on Irvin's display, mudding balls precisely as he described.
Soon after Irvin arrived, Marty Ondrovic, an Iron Pigs umpire, affectionately referred to by players as "Uncle Marty," stopped by to greet Irvin and observe the presentation. Umpires across the country mud every ball that goes into play, typically using anywhere between three to four pounds of mud per season.
Russell Aubrey "Lena" Blackburne, a coach with Connie Mack's old Philadelphia Athletics during the 1930s, is credited with discovering that New Jersey's mud had the perfect texture and consistency for the job. It is described as "smooth and creamy, but with a fine grit." Upon his death, he willed the secret to a close friend, whose family has been collecting and providing mud to teams ever since. Other companies have attempted to sell rubbing mud, but no formula has come close to that from the Delaware River Basin.
Outreach and education is an important strategic goal of DRBC. Connecting with basin residents in the Lehigh Valley helps share information about the commission and the Delaware River, as well as encourages stewardship of our shared water resources.
Commission Member Links:
Delaware
|
New Jersey
|
Pennsylvania
|
New York
|
United States
Copyright © Delaware River Basin Commission,
P.O. Box 7360, West Trenton, NJ 08628-0360
Phone (609)883-9500; Fax (609)883-9522
Thanks to NJ for hosting the DRBC website
Last Modified: 07/17/2019