Delaware River Basin Commission
---
Delaware • New Jersey • Pennsylvania
---
New York • United States of America
---
Home
>
News Bytes
>
DRBC Talks Bugs and Healthy Rivers at Bartram's Garden on the Schuylkill
DRBC Talks Bugs and Healthy Rivers at Bartram's Garden on the Schuylkill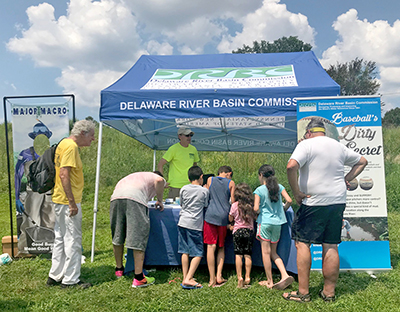 DRBC's display at Bartram's Garden Tidal Schuylkill Boat
Parade. Photo by DRBC.
The DRBC exhibited at the Bartram's Garden's Saturday Free Boating and 8th Annual Tidal Schuylkill Boat Parade, held on the banks of the Schuylkill River on July 27. The events are both designed to help connect Philadelphia residents with the river and broaden their horizons about all the things they can do outdoors right in their own neighborhood. As for the DRBC, the focus on river recreation seemed like the perfect place to showcase what we're all about, in particular, how we monitor how healthy our waterways are.
DRBC staff took a sample of macroinvertebrates - aquatic bugs - collected from the non-tidal Delaware River and transported them to Bartram's. Why not collect on-site? Essentially the river is too deep there, especially at high tide, to safely get a good sample. With DRBC staff assistance (and an identification sheet), attendees were able to search around for, observe, identify, and then make conclusions as to what the water's condition is by knowing what lives in it.
The consensus? Squirming around in the sediment in the trays were some pollution-tolerant worms and various larvae, which are typical of just about any body of water. More noteworthy, however, was the large number of stonefly and mayfly nymphs caught in the sample! While sampling, a small rock had tumbled into the net, catching all the stonefly and mayfly nymphs that had been using it as protection and an anchor in the fast-moving waters. These organisms are pollutant intolerant, meaning that they require high quality, clean water to be able to thrive. This is an indicator that the Delaware River where these bugs were collected is healthy and supportive of a robust biological community.
The Schuylkill River is the largest tributary to the Delaware and provides the city with about half of its drinking water. This event was a great place for DRBC to exhibit to help attendees get a better understanding not just of what we do to help monitor and protect our waterways, but about the connection between the Schuylkill and the Delaware and the basin as a whole. Providing a hands-on experience is a great way for kids - and adults alike - to learn about some of the science that is used to ensure that the water from their tap is safe for drinking and everyday use.
Commission Member Links:
Delaware
|
New Jersey
|
Pennsylvania
|
New York
|
United States
Copyright © Delaware River Basin Commission,
P.O. Box 7360, West Trenton, NJ 08628-0360
Phone (609)883-9500; Fax (609)883-9522
Thanks to NJ for hosting the DRBC website
Last Modified: 07/31/2019