Delaware River Basin Commission
---
Delaware • New Jersey • Pennsylvania
---
New York • United States of America
---
Home
>
News Bytes
>
DRBC & OSW Partners Connect w/Local Communities at PA-Legislator Hosted Events
DRBC & OSW Partners Connect w/Local Communities at PA-Legislator Hosted Events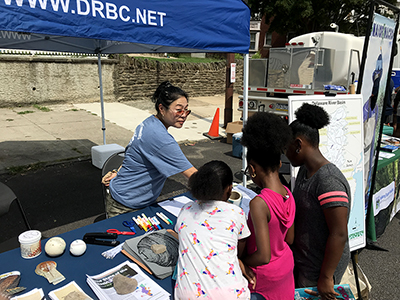 DRBC Water Resource Engineer Dr. SeungAh Byun, P.E. talks
with kids who stopped by our table at Sen. Haywood's Back
to School Celebration. Photo by DRBC.
DRBC staff recently participated in two community events hosted by Pa. state legislators: Rep. Morgan Cephas (PA House 192)'s 3rd Annual District Day and Sen. Art Haywood (PA Sen. 4)'s Back to School Celebration. Joining DRBC at Senator Haywood's event was the Tookany/Tacony-Frankford Watershed Partnership, Inc.; the Partnership for the Delaware Estuary and the Stroud Water Research Center also provided materials to support our exhibit.
These three organizations are partners with DRBC in an outreach effort entitled Our Shared Waters: A Look at the Delaware River Basin (OSW for short), which aims to increase public awareness of the important role the Delaware River - and the basin as a whole - plays in our daily lives and of the work needed to maintain and improve this critical resource.
Sen. Haywood's Back to School Celebration was held in Philadelphia's Germantown section. DRBC staff helped kids make horseshoe crab and freshwater mussel hats and also brought along several macroinvertebrate (aquatic bug) models to show kids some of the smaller creatures that are found in our waterways. The condition of the water determines what species of macroinvertebrates can and cannot survive, so the type of bugs you find can help tell how clean a waterbody is. Our science superhero, Major Macro, was also on-hand for kids to "become." The Tookany/Tacony-Frankford Partnership brought their Enviroscape model, which teaches about different sources of non-point source pollution found in runoff especially after heavy rains and what we can do to help keep our waterways clean. The model is always a hit with kids, especially younger children, as it demonstrates in a visually engaging way the connection between land and water.
Rep. Cephas' 3rd Annual District Day was held in Philadelphia's Overbrook section. DRBC staff brought our Enviroscape to this event to show attendees the land-water connection, as well as our horseshoe crab and freshwater mussel hat making activity. Kids were interested in watching the Enviroscape demo and also enjoyed making hats. While the kids were crafting, staff talked to them and their parents about the unique features of these two creatures that live in the Delaware River Basin.
The weather for each event was hot and humid and perhaps deterred large crowds from attending, but nonetheless, staff enjoyed interacting with the public and talking about the river and the basin we all call home.
Outreach and education is an important strategic goal of DRBC. Connecting with local communities helps share information about the Delaware River and the many organizations that are working to protect it, as well as encourages stewardship of our shared water resources.
Commission Member Links:
Delaware
|
New Jersey
|
Pennsylvania
|
New York
|
United States
Copyright © Delaware River Basin Commission,
P.O. Box 7360, West Trenton, NJ 08628-0360
Phone (609)883-9500; Fax (609)883-9522
Thanks to NJ for hosting the DRBC website
Last Modified: 08/29/2019