Delaware River Basin Commission
---
Delaware • New Jersey • Pennsylvania
---
New York • United States of America
---
Home
>
News Bytes
>
DRBC Brings Its Science Superhero to Frenchtown's Riverfest
DRBC Brings Its Science Superhero to Frenchtown's Riverfest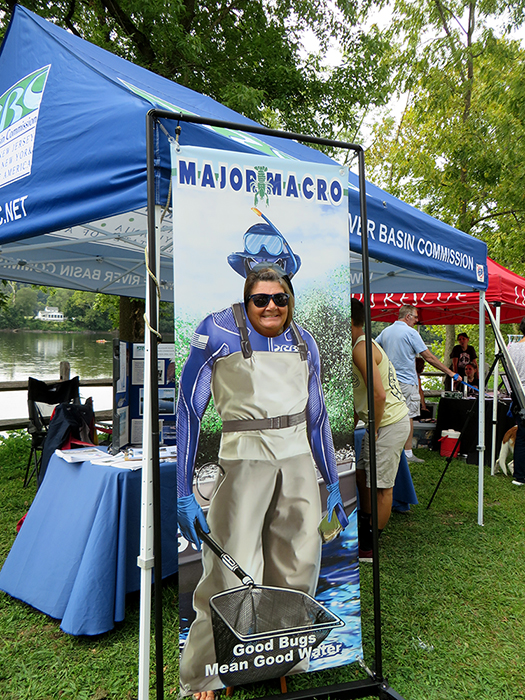 DRBC's Major Macro was a huge hit at Frenchtown's
Riverfest. Adults and kids alike got to become this
science superhero, complete with waders, snorkel,
and net, everything you need to study bugs in
the river! Photo by DRBC.
Sunday, September 1 marked the 15th Annual Frenchtown Riverfest, held in Frenchtown, N.J., a Delaware River community in Hunterdon County.
Hosted by the Frenchtown Business and Professional Association, Riverfest is celebration of the Frenchtown community: the people, the arts, and the local businesses. And, of course, the event has an environmental focus, honoring the Delaware River and promoting its sustainability as a vital water resource.
Exhibiting along with DRBC was the SPLASH Steamboat Floating Classroom. Docked in Lambertville, N.J., SPLASH is a non-profit organization whose mission is to provide environmental and historical education while sailing aboard a working steamboat. SPLASH stands for Student Participation in Learning Aquatic Science and History, and each trip offers students and adults alike a unique, hands-on learning experience while sailing on the wild and scenic Delaware River. SPLASH is a partner with DRBC in an outreach effort entitled Our Shared Waters: A Look at the Delaware River Basin (OSW for short), which aims to increase public awareness of the important role the Delaware River - and the basin as a whole - plays in our daily lives.
DRBC brought Major Macro to Riverfest and also provided a hands-on activity. Staff collected a water sample from a nearby creek and displayed the water in trays. With the help of staff, attendees identified the macroinvertebrates - aka aquatic bugs - found and learned what their presence says about the river's health. The condition of the water determines what species of macroinvertebrates can and cannot survive, so the type of bugs you find can help tell how clean a waterbody is. Factors that determine survival include temperature, pH, and dissolved oxygen levels, as well as the presence (or not) of contaminants.
The consensus? Squirming around in the leaf debris in the trays were a large number of mayfly nymphs, along with stoneflies and caddisflies. These organisms are pollutant intolerant, meaning that they require high quality, clean water to be able to thrive. This is an indicator that the creek where these bugs were collected is healthy and supportive of a robust biological community. A few small fish were also caught, making for a great display.
In addition, folks who stopped by our table could become Major Macro, who is equipped with waders, a snorkel, magnifying glass, and a kick net, everything you need to study aquatic insects and the ecology of our waterways. Kids and adults alike enjoyed taking photos of themselves and their family and friends posing as this science superhero.
This event was a great place for DRBC to exhibit, and providing a hands-on experience helped attendees get a better understanding of what we do to help monitor and protect our waterways. Connecting with the public helps share information about the Delaware River and the many organizations that are working to protect it, as well as encourages stewardship of our shared water resources.
This was DRBC's first time at Riverfest, and we are excited to return next year.
Commission Member Links:
Delaware
|
New Jersey
|
Pennsylvania
|
New York
|
United States
Copyright © Delaware River Basin Commission,
P.O. Box 7360, West Trenton, NJ 08628-0360
Phone (609)883-9500; Fax (609)883-9522
Thanks to NJ for hosting the DRBC website
Last Modified: 09/10/2019