Delaware River Basin Commission
---
Delaware • New Jersey • Pennsylvania
---
New York • United States of America
---
Home
>
News Bytes
>
Staff Discuss DRBC's Designated Use Study at the Delaware Watershed Research Conference
Staff Discuss DRBC's Designated Use Study at the Delaware Watershed Research Conference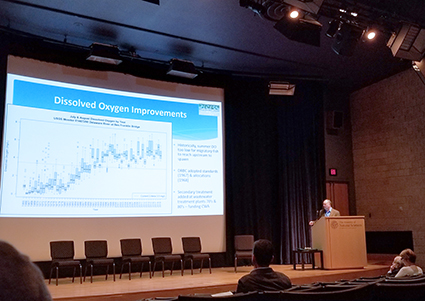 DRBC's Manager of Water Quality Assessment John Yagecic, P.E.,
presents at the Academy of Natural Sciences' Delaware
Watershed Research Conference. Photo by DRBC.
A couple of DRBC's research projects that are currently underway as part of the commission's Designated Use Study of the Delaware Estuary were featured last month at the Academy of Natural Sciences (ANS) of Drexel University's Delaware Watershed Research Conference in Philadelphia, Pa.
The conference brought together students, watershed scientists, and stakeholders to foster collaboration and discuss ongoing research efforts in the Delaware River Basin.
DRBC Manager of Water Quality Assessment John Yagecic, P.E., presented an update on the engineering evaluation and cost estimation project for Delaware Estuary wastewater treatment plants.
Evaluation of the technical, economic, and social impacts associated with updating major wastewater treatment infrastructure to address aquatic life uses and values for the Delaware Estuary (pdf 1.5 MB)
DRBC Director of Science and Water Quality Management Dr. Namsoo Suk presented on the development of a hydrodynamic and water quality model for the Delaware Estuary that will be used to allocate nutrient loadings from point and non-point sources in order to achieve higher levels of dissolved oxygen.
Modeling Eutrophication Processes in the Delaware Estuary to Link Watershed Efforts to Control Nutrient Impacts (pdf 1.6 MB)
The ANS is providing grant funding to help support these projects.
Learn more about DRBC's Designated Use Study
Commission Member Links:
Delaware
|
New Jersey
|
Pennsylvania
|
New York
|
United States
Copyright © Delaware River Basin Commission,
P.O. Box 7360, West Trenton, NJ 08628-0360
Phone (609)883-9500; Fax (609)883-9522
Thanks to NJ for hosting the DRBC website
Last Modified: 10/07/2021