Delaware River Basin Commission
---
Delaware • New Jersey • Pennsylvania
---
New York • United States of America
---
Home
>
News Bytes
>
DRBC Hosts Delegation from China's Ministry of Water Resources
DRBC Hosts Delegation from China's Ministry of Water Resources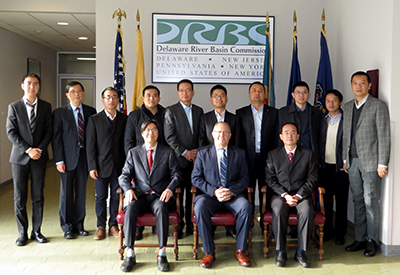 The delegation from China's Ministry of Water Resources
poses with DRBC staff. Photo by DRBC.
Last month, a delegation of officials from the Ministry of Water Resources of the People's Republic of China visited DRBC to learn about how we manage water resources across political boundaries.
The Ministry, headquartered in Beijing, is a department within China's Central People's Government. With backgrounds in water supply, pollution control, water resources engineering, and management, the delegations' members were interested in meeting with our staff to learn about DRBC's history and responsibilities, with a focus on commission water quality monitoring and water supply programs.
DRBC Sr. Water Resource Modeler Dr. Li Zheng led the discussion in Chinese, providing valuable translation assistance to DRBC staff. Additional commission staff participating included Director of Science and Water Quality Management Dr. Namsoo Suk, Director of External Affairs and Communications Peter Eschbach, and Communications Specialist Kate Schmidt.
Outreach and education is an important strategic goal of DRBC. Hosting delegations from foreign countries, as well as from outside the basin, helps share information about the unique role of the commission and how it manages the shared water resources of the Delaware River Basin without regard for political boundaries.
View Presentation (pdf 4.7 MB)
Commission Member Links:
Delaware
|
New Jersey
|
Pennsylvania
|
New York
|
United States
Copyright © Delaware River Basin Commission,
P.O. Box 7360, West Trenton, NJ 08628-0360
Phone (609)883-9500; Fax (609)883-9522
Thanks to NJ for hosting the DRBC website
Last Modified: 12/10/2019