Delaware River Basin Commission
---
Delaware • New Jersey • Pennsylvania
---
New York • United States of America
---
Home
>
News Bytes
>
USGS Conducts Delaware River Surveys with its Autonomous Underwater Vehicle
USGS Conducts Delaware River Surveys with its Autonomous Underwater Vehicle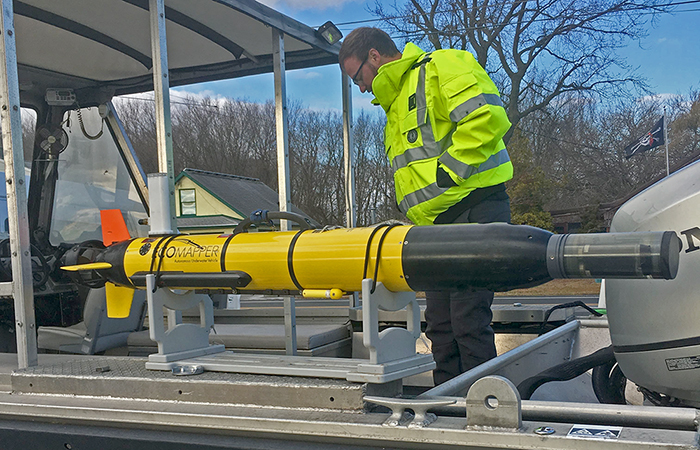 The USGS' Ecomapper, an Autonomous Underwater Vehicle,
was deployed recently in the Delaware River & Bay to collect
various data parameters. Photo by DRBC.
Earlier this month, teams from the United States Geological Survey's (USGS) Pennsylvania, South Atlantic, and Central Midwest water science centers operated two Ecomapper Autonomous Underwater Vehicles (AUVs) to collect water quality, velocity, and bathymetry (depth) data in the Delaware River and Bay (the estuary), specifically around the Ben Franklin Bridge, Penn's Landing, Fort Mifflin, Chester, and Reedy Island.
The data these instruments collected will be used to create 3-D water-quality maps for improved visualization and comparison of the data to that collected at nearby USGS stream gages. Water quality parameters collected include pH, conductivity, DO, temperature, chlorophyll and blue green algae, and turbidity. In addition, velocity and depth data collected will provide a better understanding of water quality at various depths and how fresh and salt water mixes in the estuary.
This work supports the USGS' Next Generation Water Observing System (NGWOS), of which the Delaware River Basin is a pilot program.
The deployments were successful and additional missions are being scheduled next year.
The USGS is also going to be partnering with the Independence Seaport Museum (ISM) at Penn's Landing (Philadelphia, Pa.) on an effort to better share their scientific work with the public. An innovative test bed site is being developed at the ISM to test new technology and instruments; a sonde will be deployed at the Riverlink Ferry dock, with the gage equipment housed at the ISM. One of the Ecomapper's missions was to collect imagery and data at this site. The end goal will be for the public to see firsthand the gage equipment, as well as live video of the sonde and a real-time display of the water data being collected. A new exhibit at the museum is also being developed to allow the public to conduct water chemistry experiments using similar equipment to that deployed in the river. This effort is currently planned for 2020 and ties in nicely with the ISM's River Alive! exhibit.
DRBC works closely with USGS on a variety of efforts, as well as provides support for steam gages on the Delaware River and its tributaries. We are very supportive of the Ecomapper deployment in the Delaware River and Bay. The integrated, high-resolution information being collected will allow us to expand our understanding of the physical and chemical processes that affect current velocity, salinity, water temperature, and water quality. The information will be used to refine our 3-D hydrodynamic model to study the impacts of flow management and sea level rise on salinity intrusion and to assess options to improve water quality and habitat in the estuary.
Commission Member Links:
Delaware
|
New Jersey
|
Pennsylvania
|
New York
|
United States
Copyright © Delaware River Basin Commission,
P.O. Box 7360, West Trenton, NJ 08628-0360
Phone (609)883-9500; Fax (609)883-9522
Thanks to NJ for hosting the DRBC website
Last Modified: 12/19/2019