Delaware River Basin Commission
---
Delaware • New Jersey • Pennsylvania
---
New York • United States of America
---
DRBC Celebrates 50 Years of Earth Day
The first Earth Day was held on April 22, 1970, 50 years ago. And, while this year's celebrations are going to be different, it doesn't mean that people's dedication, passion and stewardship are any less.
We all know the Delaware River Basin is a place of many firsts. One thing you may not know is that the first Earth Week was held in Philadelphia! And, even before that, the region got a little head start on cleaning up our environment, particularly our waterways, with the creation of the DRBC.
It was 1961 when President John F. Kennedy and the governors of the four basin states (Delaware, New Jersey, New York and Pennsylvania) signed the Delaware River Basin Compact into law, creating the DRBC. This was the first time that a group of states and the federal government got together to manage a river system without regard to political boundaries.
The Commission was formed in response to major issues facing the basin, for example, poor water quality. By the middle of the 20th Century, the river was so polluted in the area around Philadelphia, Camden and Wilmington that it ate the paint off of ships, made people sick just being near it and was completely devoid of oxygen needed to sustain fish and other aquatic life. It was the victim of being treated for years as a dumping ground for all types of waste.
Part of DRBC's mandate is to maintain water quality in the basin for public drinking water (after reasonable treatment), recreation, fish and other aquatic life. Accordingly, the Commission got to work on this important problem soon after its formation, by putting dischargers on a pollution diet, setting what levels were able to be discharged for various criteria and developing regulations to implement those standards. These efforts led Stewart Udall, Secretary of the U.S. Dept. of the Interior from 1961-1969, to say in 1968, "Only the Delaware among the nation's river basins is moving into high gear in its program to combat water pollution."
Today, what was once a cesspool is a river reborn. Fish populations have returned, and the river now contributes about $25 Billion in annual economic activity. People are flocking to the river for business and pleasure, wanting to reconnect with the river in ways that weren't possible 50 years ago.
In fact, just last week, the national organization American Rivers named the Delaware River its 2020 River of the Year for its remarkable comeback story. Please see https://www.americanrivers.org/delaware2020 for more information on this honorary designation.
As we look back on the past 50 years since the first Earth Day, things have improved greatly, thanks to government organizations, academia, grassroots activism from non-profit organizations and the dedication and stewardship of individual volunteers. The work may be far from over, but that doesn't mean we can't take a moment to celebrate our successes.
As we look ahead, it is key to work together, for our environment benefits from a holistic approach. We all can play a part to improve and protect our waterways. Every little bit counts, no action too small. And, the issues we face are important, including: impacts to our water resources from climate change, improving water quality in the Delaware Estuary, effective planning for future water needs and continued protection of our high quality non-tidal waters. We look forward to strengthening and expanding the strong partnerships that DRBC has built with various stakeholders, which have been critical to all the progress that's been made to date.
Ways to Celebrate #EarthDayatHome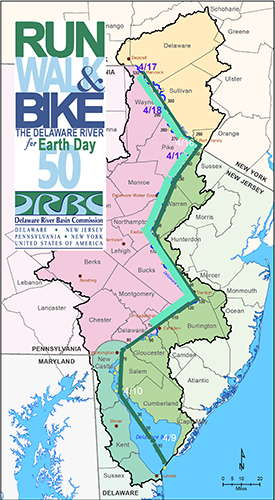 DRBC staff logged miles for the Delaware
River for Earth Day!
Like so many others, DRBC had several exciting events planned for Earth Day, but we needed to switch things up a bit to ensure that everyone stays safe, stays healthy and stays home.
While home, though, it is still important to get outside for fresh air and exercise, so over the past two weeks, members of our staff challenged one another to run, walk and bike for the Delaware River. The goal? To see if we could collectively log enough miles to equal the river's length, 330 miles. The rules were stay as close to home as possible, practice proper social distancing and family members' miles do count towards the total. How'd we do? Well, by April 17, we hit the 330-mile target! We are now working our way back downriver. If we don't make it by Earth Day, we hope to before the end of the month.
Logging these miles and sharing photos has made us feel like we are doing something together for Earth Day, even while we are apart.
Many organizations and agencies across the Delaware River Basin are doing the same, holding virtual activities in honor of Earth Day, so we can celebrate together, at home:
2. https://earthchallenge2020.earthday.org/
3. https://www.nasa.gov/content/earth-day-2020
4. https://www.nj.gov/dep/dep50/
5. https://www.dep.pa.gov/Citizens/EnvironmentalEducation/Earth%20Day/Pages/default.aspx
6. https://www.dec.ny.gov/about/9677.html
7. https://www.phila.gov/2020-04-20-celebrating-the-50th-anniversary-of-earth-day/
Earth Day: Water Tips
For Earth Day, here are some things we can do around the house to help conserve water and keep our waterways clean:
Use native plants in your gardens; they are used to growing in your area, reducing fertilizer and watering needs. Less fertilizer = less polluted runoff when it rains. Native plants also benefit wildlife.


Consider a native plant rain garden to help absorb rainwater and reduce runoff from your property; less fuss and good for nearby waterways - a win-win!


Use no chemicals on your lawn and keep grass mowed higher, which shades its roots, making it more drought tolerant.


Pick up after your pet.


Use a rain barrel to collect water, which you can use on your gardens. Using less water also saves money – another win-win.


Always run full loads in your dishwasher and washing machine.


Check for leaks around the house.


Turn off the tap while you're brushing your teeth and scrubbing your hands (don't run water for those 20 seconds!).


Consider water-efficient appliances and showerheads.


Don't flush medications.
Happy Earth Day! We cannot wait until we can celebrate together again. Till then, please stay well and stay safe!
Commission Member Links:
Delaware
|
New Jersey
|
Pennsylvania
|
New York
|
United States
Copyright © Delaware River Basin Commission,
P.O. Box 7360, West Trenton, NJ 08628-0360
Phone (609)883-9500; Fax (609)883-9522
Thanks to NJ for hosting the DRBC website
Last Modified: 04/21/2020