Delaware River Basin Commission
---
Delaware • New Jersey • Pennsylvania
---
New York • United States of America
---
Home
>
News Bytes
>
DRBC Cares for Its Communities: Staff & TTF Team Up to Clean Tacony Creek Park
DRBC Cares for Its Communities: Staff & TTF Team Up to Clean Tacony Creek Park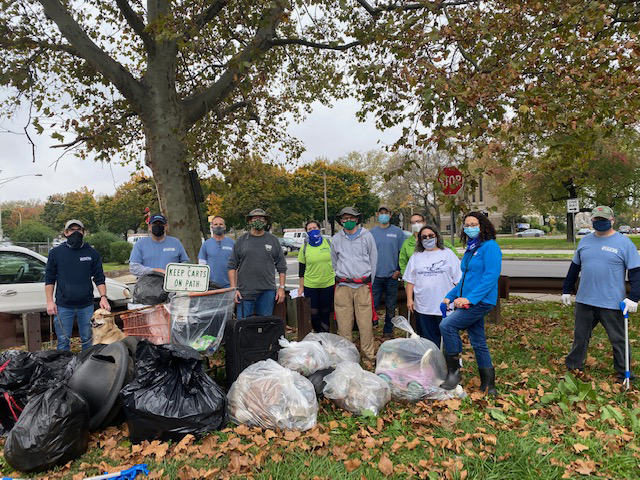 The DRBC team poses with TTF's Julie Slavet (3rd from R)
and with their bounty after a successful cleanup.
Photo by DRBC.
While the main efforts of DRBC staff are focused on managing and protecting the shared interstate waters of the Delaware River Basin, they also care about helping out in our local communities.
Last week, DRBC staff joined the Tookany/Tacony-Frankford Watershed Partnership (TTF) to volunteer their time to clean up a section of Tacony Creek Park. The park features 300 acres of streamside and woodland habitat in lower Northeast Philadelphia. The section we focused on was near the intersection of Roosevelt Blvd. and Rorer Street.
Upon arrival, staff met with TTF Executive Director Julie Slavet, who provided instructions and welcoming remarks. Staff then fanned out to work on cleaning up trash, recyclables or other debris. In just a few hours time, over 22 bags of trash and recycling were collected!
Trash strewn along roadsides and sidewalks makes its way to our creeks, streams and rivers directly when it rains or through storm drains. This runoff does not go to treatment plants before entering our waterways, it does so directly, negatively impacting water quality and habitat.
This cleanup was socially distanced, and masks were required to be worn throughout the event.
We thank TTF for providing water, tools and supplies, as well as for their partnership!
Learn more about this organization at the above link. You can also learn more about Tacony Creek Park by visiting the Tacony Creek Park Keepers website at https://tcpkeepers.org/.
Commission Member Links:
Delaware
|
New Jersey
|
Pennsylvania
|
New York
|
United States
Copyright © Delaware River Basin Commission,
P.O. Box 7360, West Trenton, NJ 08628-0360
Phone (609)883-9500; Fax (609)883-9522
Thanks to NJ for hosting the DRBC website
Last Modified: 11/04/2020