Delaware River Basin Commission
---
Delaware • New Jersey • Pennsylvania
---
New York • United States of America
---
Home
>
News Bytes
>
DRBC Cares for its Communities: Staff Volunteer at Mercer St. Friends Food Bank
DRBC Cares for its Communities: Staff Volunteer at Mercer St. Friends Food Bank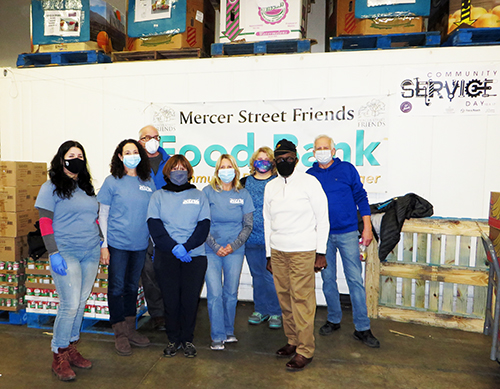 Staff pose with MSF's Director (white shirt) and another volunteer (far
right) after a successful shift packing family food bags. Photo by DRBC.
While the main efforts of DRBC staff are focused on managing and protecting the shared interstate waters of the Delaware River Basin, they also care about helping out in our local communities.
Six DRBC staff recently volunteered at the Mercer Street Friends Food Bank (MSF) in Ewing Township, N.J.
MSF is the leader of the community's response to hunger, offering prevention programs and annually distributing 5.5 million pounds of privately- and government-donated food to a network of more than 100 shelters, soup kitchens and food pantries in Mercer County, N.J. In addition to running the food bank, Mercer Street Friends also offers a free preschool and many programs for youth, adults and parents.
This year, staff helped make more than 350 food bags to be given out to families in need. Before the pandemic hit, MSF was prepping about 800-850 bags a week for families; they are now prepping about 1,200 a week.
This was our 6th year volunteering at the Food Bank, and we always appreciate the experience. This year, we were especially grateful to be able to help, as we know that the need is greater than ever.
Please visit their website (linked above) to learn more about their efforts and programs.
Thank you to the MSF staff for having us and for all you do in the local community!
During the holiday season and all throughout the year, DRBC staff are proud to do their part to help those in need. A small agency can have a big impact when they work together to do good for others.
Commission Member Links:
Delaware
|
New Jersey
|
Pennsylvania
|
New York
|
United States
Copyright © Delaware River Basin Commission,
P.O. Box 7360, West Trenton, NJ 08628-0360
Phone (609)883-9500; Fax (609)883-9522
Thanks to NJ for hosting the DRBC website
Last Modified: 12/17/2020