Delaware River Basin Commission
---
Delaware • New Jersey • Pennsylvania
---
New York • United States of America
---
Home
>
News Bytes
>
DRBC Celebrates Earth Day, Presents at Two Virtual Events
DRBC Celebrates Earth Day, Presents at Two Virtual Events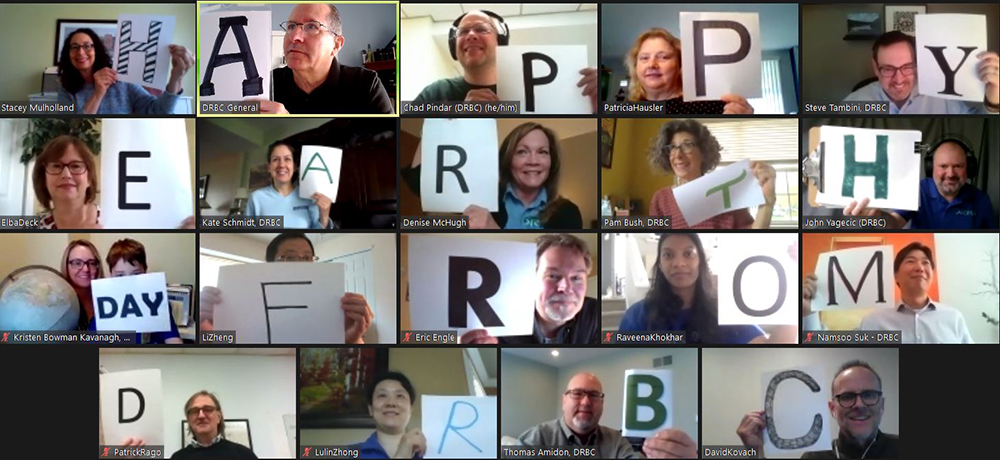 2021: 51 Years of Earth Day!
Even though the pandemic has halted in-person outreach events and festivals for a second year in a row, it has not stopped people from getting together to celebrate the Earth and highlight ways we all can help protect our environment.
At DRBC, we know the importance of managing, protecting and improving our water resources. It is what we've been doing since 1961 when the Commission was formed. And, we've come a long way.
Long gone are the days when there were no fish in the Delaware River at Philadelphia, and it was so polluted you could smell it from the air. In fact, the river's cleanup is hailed as one of the world's top water quality success stories.
That does not mean the job is done. DRBC and its partners continue to work to improve water quality and water sustainability to ensure clean water resources for today and tomorrow.
Earth Day Word Cloud
Staff were asked to give a one-word answer for what comes to mind about DRBC and Earth Day. Here's the generated word cloud: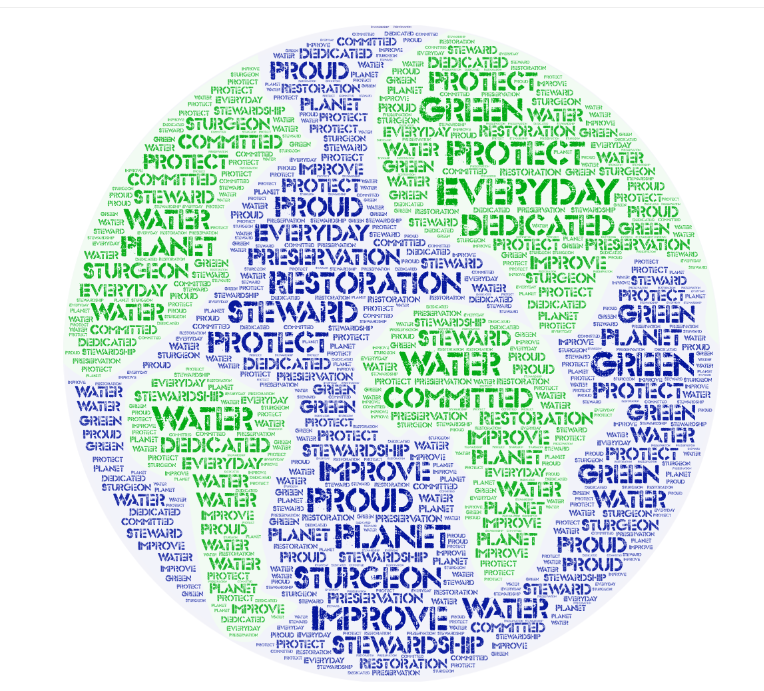 As you can see, the DRBC staff takes its role very seriously.
Staff also "walks the walk" at home. From saving water at the tap to reducing single-use plastic to going green in the garden, we all do what we can to help keep our water resources clean and plentiful. It doesn't have to be much; small changes can make a big difference!
DRBC Earth Week Presentations
Pa. State Senator Amanda Cappelletti (D-17) hosted a Facebook Live event on April 21, 2021: Conservation and Connectivity. DRBC's Kate Schmidt joined Schuylkill River Greenway's Tim Fenchel to talk about things we can do to help conserve water and keep it clean, as well as about connecting with nature and recreational opportunities along the Schuylkill River. The Schuylkill River is the Delaware River's largest tributary and a major waterway in Sen. Cappelletti's district.
View recording of the talk on Sen. Cappelletti's Facebook Page: https://fb.watch/56KQqw0iSX/
DRBC presentation: Be Water Smart at Home: Tips to Improve Water Quality and Conserve Water (pdf)
The Philadelphia Geographical Society hosted a webinar on April 22, 2021: Philadelphia's Water - Preservation and Exploration. DRBC's Kate Schmidt joined the Academy of Natural Science's Carol Collier and the U.S. EPA's Garth Connor to talk about the relationship between human activity and the health of river ecology. Panelists discussed the history of water quality improvements and recreational opportunities in the Delaware River Basin, as well as how government regulation and on the ground watershed improvement projects complement one another and work together to make our water resources healthier and sustainable.
View recording of the panel discussion: https://www.youtube.com/watch?v=b9yB1Frm2GI
DRBC presentation: Manage, Protect, Improve and Connect through Science and Collaboration (pdf)
Earth Day Blog
For DRBC's Our Shared Waters effort, Pa. State Representative Mary Isaacson (D-175) wrote a blog to celebrate Earth Day. Titled Appreciating Our Shared Waters this Earth Day, Rep. Isaacson writes:
I have lived and worked along the Delaware River for as long as I have lived in Pennsylvania. We are a community along this river and I am proud to be the State Representative for the Riverwards – not just the people, but the soil, the red-bellied turtles, the shad, and all of the nature and history that the river holds as well.
Commission Member Links:
Delaware
|
New Jersey
|
Pennsylvania
|
New York
|
United States
Copyright © Delaware River Basin Commission,
P.O. Box 7360, West Trenton, NJ 08628-0360
Phone (609)883-9500; Fax (609)883-9522
Thanks to NJ for hosting the DRBC website
Last Modified: 04/29/2021